Energy Deals on Agenda as China's Xi Visits Putin in Moscow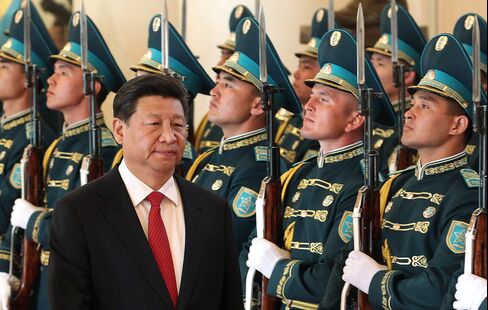 The energy relationship between Russia and China will be a big part of discussions during President Xi Jinping's visit to Moscow on Friday.
President Vladimir Putin's recent support for a gas pipeline from East Siberia to China increases the chances the two countries will sign new energy agreements, said Keun-Wook Paik, a senior research fellow at the Oxford Institute for Energy Studies, said in an e-mail.
Putin's final approval on May 2 for the Power of Siberia trunk pipeline eased Beijing's worries over the future of the project. Doubts about the project surfaced when OAO Gazprom, Russia's gas-export monopoly, said preference may be given to another pipeline, known as Altai, routed to China's less industrialized north-western regions.
"As the momentum for the Power of Siberia is saved by President Putin's last-minute intervention, I think there will be a feedback from Beijing," Paik said. "President Xi needs to offer something to Putin."
Russia receives over a half of its budget income from oil and gas sales and has become increasingly dependent on energy investments from Asia after the Ukraine crisis limited its financing options in Europe and the U.S.
Gazprom signed a 30-year contract last May for supplies of as much as 38 billion cubic meters a year of gas to China National Petroleum Corp., or CNPC, starting no later than 2020. In November, the two companies reached a framework agreement on 30-year supplies of as much as 30 billion cubic meters a year of gas from West Siberia, with a binding deal expected this year.
Yamal Project
Among the energy agreements that may be reached during Xi's visit is an increase in China's stake in the Arctic Yamal LNG project, Alexander Gabuev, senior associate at the Carnegie Moscow Center, said in an e-mail. The project's led by Russian as producer OAO Novatek.
CNPC, which already holds 20 percent in the project, may buy an additional stake, Russia's deputy prime minister Arkady Dvorkovich said in an interview to the Financial Times on May 5.
Novatek and its partners in the project expect to start output at the liquefied natural gas plant in 2017 with the bulk of the future LNG volumes already contracted and going to Asian markets.
Apart from the pipeline gas and LNG projects, Xi will likely discuss potential involvement of Chinese investors in East Siberia's Vankor field, run by state oil producer OAO Rosneft, analysts at VTB Capital said on May 6.
CNPC signed a preliminary agreement with Rosneft last November to buy a 10 percent stake in Vankor, which VTB estimates produced about 445,000 barrels a day of oil, or around 4 percent of Russia's total output, last year.
Securing more crude oil is China's top priority in energy talks with Russia, although the decline in crude prices has delayed signing the Vankor deal, Paik said.
"The oil price collapse has caused a big headache for both Moscow and Beijing," he said.
Before it's here, it's on the Bloomberg Terminal.
LEARN MORE