EDF Said to Be Ready to Buy Areva Nuclear, Engineering Units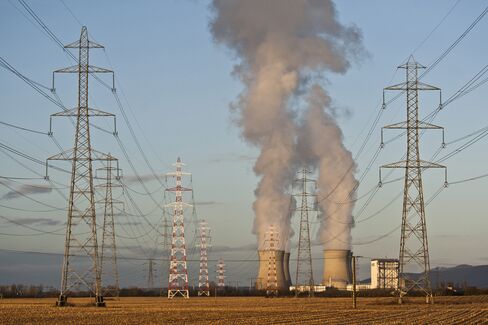 Electricite de France SA is prepared to acquire the nuclear-reactor and engineering businesses of Areva SA under a government-backed plan to shore up the unprofitable company, according to people with knowledge of the matter.
EDF is close to proposing the purchase to Areva, said the people, who asked not to be identified because the details are private. Areva NP, the reactors and services division, may be valued at 1.5 billion euros ($1.7 billion) to 3 billion euros, while the engineering business could fetch about 300 million euros, they said.
Any deal could still fall apart if EDF and Areva can't agree on valuations, the people said. While no final decision has been made, talks are progressing and a plan may be unveiled in the coming weeks, they said. Representatives for EDF, Areva and the government declined to comment.
Areva is trying to repair its finances following mismanaged reactor constructions in France and Finland and a retreat from nuclear energy in some countries after the 2011 Fukushima disaster. The plan under consideration would effectively dismantle Areva and reduce the government funds required for a turnaround.
State Backing
France, which controls both companies, is favorable to the proposal that would see EDF take over businesses that design, build and maintain atomic plants, the people said. EDF operates France's 58 reactors.
Areva would prefer to sell just its engineering business for as much as 1 billion euros, while further cash could be raised selling stakes in Areva NP, the people said.
Areva is still exploring a sale of other units including an interest in its uranium-mining division in case it deems EDF's approach too low, one person said. In any event, Areva may still need to sell additional shares, two of the people said.
Areva may still have other options. Engie, the new name of French power utility GDF Suez, could make a bid by the end of the month for a majority stake in Areva's business that serves the installed based of reactors, another person familiar with the talks said. The entire maintenance business alone could be valued at about 3 billion euros because it excludes the troubled reactor division, the person said.
Engie could develop partnerships with Areva in nuclear services as the two companies have similar activities, Engie's Deputy Chief Executive Officer Isabelle Kocher said in an interview last month. A representative for Engie declined to comment.
Asset Sales
The French government, struggling with near-record unemployment, unveiled a plan in October to sell as much as 10 billion euros of assets within 18 months to cut debt and spur economic growth. A purchase by EDF of Areva assets would help cut the amount of state cash that the reactor builder may need.
EDF closed 1 percent lower in Paris at 21.87 euros. Areva shares gained as much as 3.3 percent before closing 4.5 percent lower at 7.95 euros.
"Investors don't like the idea of EDF taking over the risks associated with the reactor business," said Roland Vetter, head of research at CF Partners, referring to the plants under construction. "EDF is a utility and should focus on its core business."
Areva's net loss widened to a record 4.83 billion euros in 2014. The company said Thursday it will reduce global staff by as much as 6,000 over three years as part of a plan to cut costs by 1 billion euros by 2017.
The French state and government-owned entities own 84 percent of EDF and 87 percent of Areva.
Before it's here, it's on the Bloomberg Terminal.
LEARN MORE