Cuomo Seeks Higher Fast-Food Worker Wages, Skirting Senators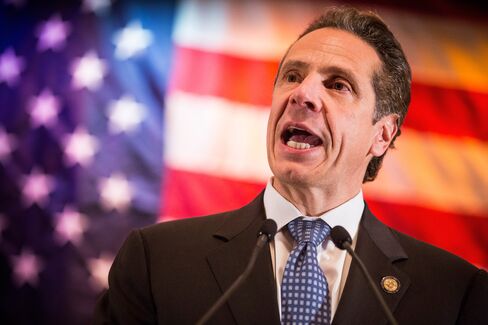 Governor Andrew Cuomo is sidestepping the legislature to raise earnings for fast-food workers beyond New York's $8.75-an-hour minimum wage.
The move follows nationwide strikes by employees of McDonald's Corp. and other companies that demanded a $15 hourly wage. The new level for earnings won't be known until a wage board empaneled at the governor's direction makes a recommendation to Cuomo's labor commissioner, who can implement it without lawmaker approval.
New York spends $6,800 in public assistance per fast-food worker annually, more than any other state, Cuomo has said. It totals $700 million per year.
"I want to get out of the hamburger business," Cuomo said in a speech Thursday in Manhattan's Union Square to hundreds of union workers. "I don't want the taxpayers of New York subsidizing the profits of McDonald's anymore."
Cuomo is using a power he has under state law to circumvent the legislature; he couldn't persuade the Republican-controlled Senate to back his proposal to raise the minimum wage to $10.50 per hour and $11.50 in New York City. The Democrat-controlled Assembly had sought a $15 minimum wage for the city.
National Debate
The 57-year-old Democrat said boosting wages, rather than smothering companies that pay them with rules and taxes, is his answer to a national debate over how to narrow the divide between rich and poor. In New York, entry-level fast-food workers earn an average of $16,920 annually, he said.
His decision to deploy the wage board followed pressure from liberals, including Attorney General Eric Schneiderman, who said the governor should act unilaterally. In his speech, Cuomo took aim at corporations and pay for chief executive officers.
"Their profits are based on unpaid wages and unpaid employee expenses," Cuomo said. "If the Republican Senate doesn't want to hear it, then I'll use the powers that I have."
Watershed Moment
Cuomo's maneuver is the culmination of a fight for $15-an-hour wages for fast-food workers that started in New York City almost three years ago, said Christine Owens, executive director for the National Employment Law Project, which backs higher earnings.
"This milestone is a game-changer that will no doubt reverberate around the nation and across numerous low-wage industries," Owens said in an e-mailed statement.
Cuomo isn't committing to $15 an hour.
"I want this panel to take a fair look at the industry, look at the costs and then I want them to tell me what they think is fair," Cuomo told reporters after the speech. "I don't want to bias that or prejudge it."
Melissa Fleischut, who heads the New York State Restaurant Association, said the legislature should set a wage that affects all businesses.
"Singling out one industry to have a higher minimum wage than all other occupations is unfair and arbitrary," Fleischut said in a statement.
In February, the state labor commissioner backed a recommendation from another wage board empaneled by Cuomo to raise wages for restaurant workers who earn tips by $2.50 to $7.50 per hour.
Under New York law, a wage board can suggest changes to the minimum wage in specific industries or job types. The panels must be led by three members representing labor, businesses and the public.
Buffalo Mayor Byron Brown, Service Employees International Union Secretary-Treasurer Mike Fishman, and businessman Kevin Ryan, the founder of Gilt, MongoDB, Business Insider and Zola, will head Cuomo's new panel.
For more, read this QuickTake: The Minimum Wage Debate
Before it's here, it's on the Bloomberg Terminal.
LEARN MORE