Harper Takeover Rules Boon for Canadian Resource Firms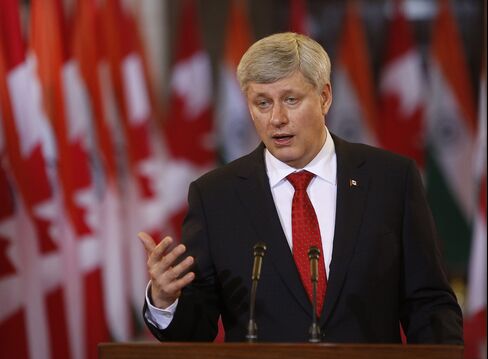 Energy and mining industries, hammered by a commodity slump, are poised to be the biggest beneficiaries of looser Canadian foreign-takeover rules.
Prime Minister Stephen Harper's government boosted the threshold at which foreign acquisitions are reviewed, setting it at an enterprise value of more than C$600 million ($498 million). That may free up 121 publicly traded businesses, with a total market value of about C$32 billion, from automatic reviews, according to data compiled by Bloomberg.
With 72 of those in basic materials and energy industries, the move may help mid-cap resource companies get new sources of capital at a time when low commodity prices are making it increasingly difficult to find buyers.
"It means for a foreign investor, they are on the same footing as a Canadian investor," said Peter Glossop, who advises on competition and antitrust matters at law firm Osler, Hoskin & Harcourt LLP in Toronto. "That's a good thing for these companies since mid-cap companies aren't really going to raise significant public-policy issues."
The regulations, which came into effect April 24, apply to companies based in World Trade Organization-member countries that are seeking to invest in Canada. The threshold, based on enterprise value, replaces a C$369 million level that was calculated on asset value. The shift means some companies that are asset-rich but have seen their valuations tumble because of falling commodity prices will get a reprieve from foreign-investment reviews.
'Real Concern'
"It's been a real concern for some of these companies which still have relatively high asset values but their share prices declined significantly," Glossop said. "From their perspective, they just can't see why an asset value is something that is going to determine whether they have to go through this lengthy process, where the reality is the company isn't worth what the asset value is."
Share prices of the 121 companies that may have been freed from foreign investment rules -- including Vancouver-based Taseko Mines Ltd. and Savanna Energy Services Corp. of Calgary - - have declined 15 percent in the past year, compared with a 2.8 percent gain for the Standard & Poor's TSX Composite Index.
Brian Bergot, a Taseko spokesman, said the company isn't concerned about the changes. A phone message left at Savanna Energy wasn't immediately returned.
Alberta 'Uncertainty'
Canada's energy companies may need all the help they can get. Their valuations tumbled a day after the New Democratic Party swept to power in Alberta pledging to raise corporate taxes and review royalties. The S&P/TSX Energy Sector Index of 64 companies fell 2.5 percent on Wednesday, its biggest one-day drop since Feb. 4.
"Who is going to want to step in to do an acquisition with all the uncertainty now in place," said Martin Pelletier, managing director and portfolio manager at TriVest Wealth Counsel Ltd. in Calgary.
The Bank of Canada Commodity Price Index -- which tracks 23 commodities produced in Canada and sold in world markets -- has fallen 36 percent since touching the highest in almost three years in June 2014.
The drop in commodity prices has dried up capital for the nation's mid-cap companies. Foreign takeovers of Canadian firms valued at less than $1 billion fell to $2.34 billion in the first quarter, the second-lowest quarterly reading since the global financial crisis and 54 percent less than the previous quarter. Foreign takeovers of small- and mid-cap oil and gas companies fell to $196 million in the fourth quarter, the lowest in almost three years.
Rising Threshold
More regulatory changes are coming. The C$600 million government-review threshold will hold for two years, before increasing to C$800 million for another two years, and then rise to C$1 billion. Once it hits that level, the threshold will be indexed to nominal gross domestic product growth. At current prices, that would free up a total of 183 companies from automatic investment reviews.
Canada also will raise the threshold for reviewing foreign investment from European Union countries to C$1.5 billion as part of its trade agreement with the region, which Harper has said will be finalized by next year. The pact with Europe means Canada will be obligated to raise the threshold for all countries it has free trade agreements with, including the U.S.
Conversely, some companies previously exempt from government inspection -- asset-poor businesses with rich valuations -- may find themselves facing reviews with the changes if they are targeted for a takeover. At least 15 Canadian companies may fall under this category.
State Enterprises
The restrictions haven't changed for everyone. Foreign state-owned enterprises will continue to operate under the old threshold rules, in addition to facing tighter overall regulations. Those rules are a result of increasing scrutiny of investments from outside of Canada's historical trading partnerships, targeted largely at emerging countries such as China.
Specifically, Harper has banned state-owned companies from oil-sands takeovers except under "exceptional circumstances" and amended its foreign-takeover law to add national security to the list of issues that can trigger a review.
"There is right now a lot of uncertainty with non-traditional investment partners," said Dany Assaf, co-chairman of the competition and foreign-investment group at Torys LLP in Toronto. "They are trying to find the right balance in this mix of how to focus on getting the most of the best type of investment in Canada according to their view of the world."
Before it's here, it's on the Bloomberg Terminal.
LEARN MORE