BMW Sees Car's Missing Moral Compass Delaying Self-Driving Era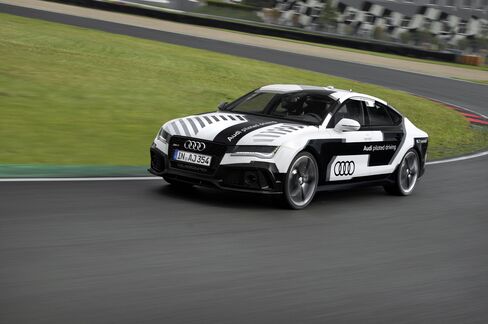 Would you trust your 7-Series to choose between hitting a child and crashing into another car? BMW AG said open moral questions like these will mean napping or reading behind the wheel is many years away.
"Fully-automated driving is in my view still a long way off," Ian Robertson, the Munich-based company's head of sales, said Thursday in an interview. "The technology will be held back by the ultimate moral question on who's responsible."
Carmakers including BMW and Daimler AG are already adding partially automated systems such as an auto-pilot that can take over in stop-and-go traffic. In January, Daimler's Mercedes-Benz showed a self-driving luxury concept car called the F015, complete with swivel seats to enable driver and passengers to face each other for a chat. Audi, the Volkswagen AG luxury unit, sent an unmanned RS7 down a track at racing speeds last year.
Aspects of the technology may make driving safer and more comfortable. It also promises to be lucrative. Vehicles capable of steering themselves down the freeway or through traffic jams may be on the road in large numbers by 2017, and autonomous cars might create a $42 billion market for the technology by 2025, Boston Consulting Group said in January.
Autonomous 7-Series
Luxury carmakers are leading the way. BMW's revamped flagship 7-Series sedan, due to start sales in September, will have autonomous features not available now, Robertson said, declining to give specifics. One indication for the technology's next step was at the Las Vegas Consumer Electronics Show in January, where BMW demonstrated an app that allows vehicles to park themselves even in multi-story garages.
The bigger question, though, is how driverless cars will be able to decide between life and death, Robertson said. While a human can make a spontaneous choice in a dangerous situation, a self-driving car will have to be programmed to react.
"The technology is capable of doing these things in a much safer way than a human can," Robertson said. "However, an algorithm will make a decision which might not be acceptable from a cultural or societal point of view."
Before it's here, it's on the Bloomberg Terminal.
LEARN MORE