Wisconsin's Revenue May Make It Harder for Walker to Crow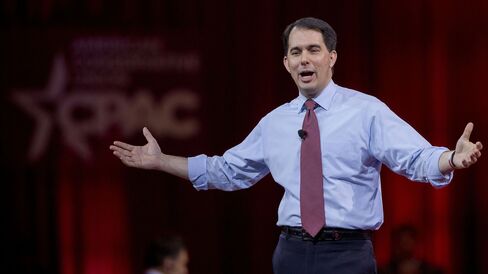 Wisconsin's projected tax collections probably won't generate the windfall needed to ease Governor Scott Walker's proposed budget cuts, a blow as the potential Republican presidential candidate presents his state as a laboratory for limited government.
Walker and allies who control the legislature would have been buoyed by a more robust forecast. That could've softened unpopular trims to primary and secondary education as well as the University of Wisconsin contained in the governor's two-year budget proposal.
The news was delivered Wednesday to lawmakers in a letter from the state's nonpartisan Legislative Fiscal Bureau as they start the final phase of budget-writing.
"If there is any additional revenue in the current year, it will likely be offset by reduced growth rates," wrote Bob Lang, the bureau's director.
Outside Wisconsin, the second-term governor presents his state as a model for the fiscal philosophy favored by his party's core voters and top donors. Those themes were woven throughout the address he delivered in February when he outlined his spending plan.
Walker, 47, often says he won't announce a presidential bid until after the legislature passes a two-year budget, likely in June.
The governor has argued that his policies would generate more economic activity and revenue. During the fiscal year ending June 30, revenue was expected to grow 3.7 percent, Lang wrote. Through April, it had grown 3.3 percent.
That means lawmakers must accept his cuts or find their own. They could also raise taxes and fees, though Republican leaders and Walker have opposed such options.
Lab Test
"Wisconsin will end the biennium with a balanced budget, and our proposed budget will result in a near $500 million surplus," Laurel Patrick, a Walker spokeswoman, said in a statement. "In the next couple months, we will continue to work with legislative leaders to protect public school funding and ensure it remains whole."
Democrats blamed Walker's policies for the budget challenges and took digs at his absence from the state.
"With his complete failure to grow our economy, a deeply unpopular budget, and plummeting approval numbers, I get why the governor would rather be in any other state but Wisconsin," Senator Jon Erpenbach said in a statement. "This budget is wrong for Wisconsin in more ways than can be counted, and Republicans need to simply start over."
Walker's budget would eliminate about $300 million from the state's university system, a roughly 13 percent cut. The system's flagship, the University of Wisconsin-Madison, has a tradition of anti-war activism and provided much of the energy behind protests that confronted Walker during his fight against public-sector unions in 2011.
His plan would also continue a tuition freeze for two years and grant the system more freedom from state oversight, which university officials have sought.
Walker also has proposed a $127 million cut for public elementary and high schools, according to the Associated Press.
Wisconsin is rated AA by Standard & Poors, third-highest. Without changes, the state faces a shortfall that may reach $2.2 billion in two years starting in July, according to Walker's analysts. Tax cuts supported by Walker and Medicaid spending contributed to the deficit.
His aides have called the projections premature, while Democrats say the figures prove the governor's policies, especially income and property-tax reductions, turned a $517 million surplus at the end of June into a deficit.
Before it's here, it's on the Bloomberg Terminal.
LEARN MORE