Surge in Treasury Yields Has Analysts Salivating Over Banks
Bank stocks are on the move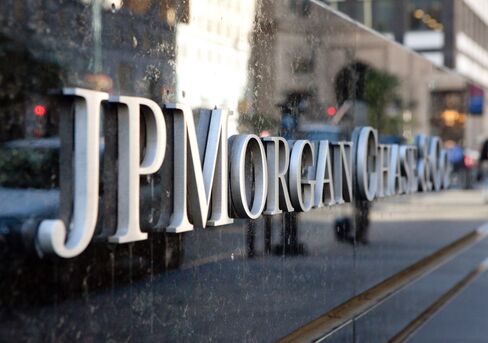 The chart watchers in the stock market would like to draw your attention to notable recent moves by some large U.S. banks. JPMorgan Chase & Co.'s shares, for example, on Monday reached the highest level in 15 years. Goldman Sachs Group Inc. touched the highest price since 2008 last month and the SPDR S&P Bank ETF reached a 13-month high this week.
One obvious reason for the recent strength is a strong earnings season. The 24 companies in the KBW Bank Index posted profit growth of 8.8 percent and beat analysts' estimates by almost 10 percent. Another reason, however, is a bit more slippery: the recent spike higher in interest rates on longer-term Treasuries. The subsequent steepening of the yield curve, it stands to reason, should be good for banks because they borrow at short-term rates and lend at long-term rates.
This has some chart watchers transfixed by the recent moves in bank stocks amid a broader market that hasn't seemed very confident about putting new highs in the record books over the last few months.
"We continue to see signs of sector rotation playing out under the surface," Strategas Research Partners analyst Chris Verrone wrote in a report Tuesday. "In particular, financials continue to improve in our work with roughly 85 percent of the sector outperforming over the last 65 days." The steeper yield curve is part of the cause of the excitement, according to Strategas, and the new highs for shares of "bellwethers" like JPMorgan stand out. Of particular note is their strength compared with real-estate investment trusts, which have had the opposite reaction to higher yields.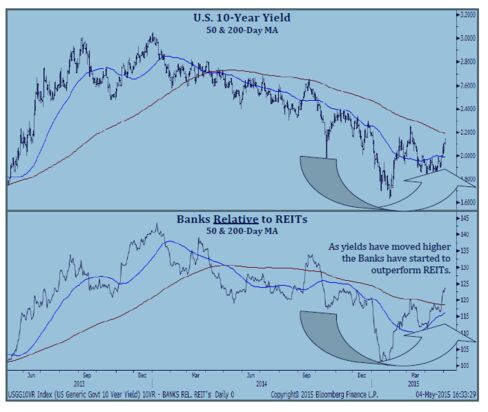 In fact, financial companies are probably the one group that could push the U.S. stock market to new heights, according to Cornerstone Macro analyst Carter Worth. He's bullish on the group due to the recent chart patterns of Goldman, JPMorgan, Wells Fargo & Co., Northern Trust Corp., Bank of New York Mellon Corp., KeyCorp and others.
"We would go so far as to say that financials likely will serve as a 'control mechanism' for the entire market in the days/weeks ahead," he wrote in a report on Monday. This is occurring as financial stocks in the Standard & Poor's 500 Index form a "wedge" pattern, which will have to resolve itself one way or another.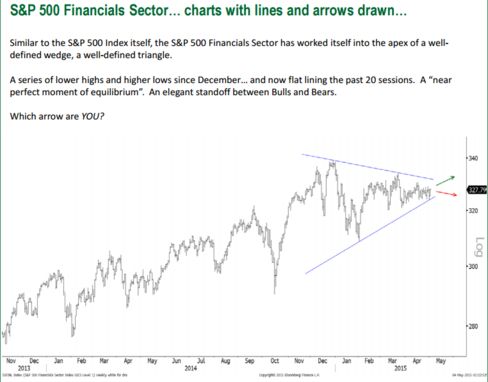 And that "control mechanism" may very well boil down to how investors interpret the prospects for banks' profits from loans, at least for the companies that rely more heavily on lending than, say, investment banking and trading. In its simplest form, the profitability from bank lending, known as net-interest margin, can be boiled down to this equation: Long-term rates - short-term rates = net interest margin. In reality, however, it's not quite that simple. So another way to look at the changes in net-interest margins is this equation:

If you're into complicated equations like that, check out this research paper on the website of the Federal Deposit Insurance Corporation for all the juicy details. But the executive summary is this: the equation takes into account not only rising interest rates but also the potential for greater credit risk that goes hand-in-hand with them. If you're not an executive but you are an old-school rap fan, here's The Notorious B.I.G. summary: Mo money from net interest margins, mo problems.
Remember all those reductions in provisions for bad loans that bolstered bank profits in recent quarters? They might have to go in the other direction one day. Hence, credit-adjusted net interest margins are really what matter most, as Keefe Bruyette & Woods analyst Frederick Cannon explained in a report. Reserves for bad loans may have to increase to address growth in demand from borrowers as well as potential deterioration in credit quality, according to KBW.
"No matter what the Fed does, we see limited likelihood of significant profitability improvement for the U.S. banking industry," Cannon and colleague Matthew Dinneen wrote. "While the industry is under-earning on net interest margins due to low rates, it is over-earning on credit, with exceptionally low provision expense relative to longer-term averages."
So the story with the yield curve and the Notorious B.I.G. Banks is more complicated than it appears at first blush. As the famous rapper once put it: "If you don't know, now you know."
Before it's here, it's on the Bloomberg Terminal.
LEARN MORE