Scores of Germans Retiring Early Costing Country Billions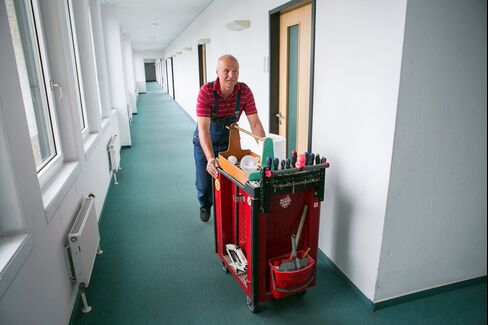 German Chancellor Angela Merkel made Jochen Heyn, a heating technician with muscular arms and a big smile, an offer he couldn't refuse.
When her government allowed Germans to retire at age 63 -- two years earlier than in the past -- without cuts to their benefits, Heyn jumped at the opportunity after more than four decades of carrying radiators and fixing boilers. Suffering from a bad shoulder, an arthritic knee and diabetes, Heyn says it was an easy decision.
"I've worked almost every day for the past 47 years and I can feel that," Heyn said in an interview in his hometown of Berlin. "Now I'm spending more time gardening, with my small motorboat and my 1 1/2-year-old grandson who's so much fun. Early retirement is a dream come true."
It's actually tens of thousands of dreams -- and it comes with an expensive price tag. More than 279,000 Germans have applied for early retirement since the practice was introduced last July. Germany, already suffering from an aging population and a lack of skilled workers, had originally forecast the measure would cost 900 million euros ($1 billion) in 2014 alone. In reality, the program has proven so popular that it turned out to be about 1.5 billion euros just for last year.
"Retirement at 63 is a relatively expensive program Germany may not be able to afford for long," said Axel Boersch-Supan, a pensions analyst at the Max Planck Institute in Munich, who estimates it will cost about 2.5 billion euros annually through 2030. "It leads to higher fees for workers and lower pensions for those who don't qualify."
Super Aged
The program, which Germans can only apply for after working for at least 45 years, was a concession Merkel made to her Social Democratic coalition partner when she formed her third-term government. The German pension system dates back to 1889, when Chancellor Otto von Bismarck introduced social reforms to win blue-collar votes. Back then, the eligibility age was 70.
Critics say there's a big problem with letting Germans retire early: Europe's largest economy is old and getting even older.
The country is identified by the United Nations as "super aged," with 20 percent of the population older than 65. Working-age adults will shrink to as few as 34 million by 2060 from the current 50 million, according to the latest government estimates. At that point, one-third of citizens will be 65 or older, meaning fewer people will be working to finance ever-increasing pensions.
Zoo Maintenance
For those who are eligible, it's an opportunity to more thoroughly enjoy life after years of work. Heyn got his first job as a teenager in 1967. Over the years, he held several positions, including in construction and maintaining the heating system of East Berlin's zoo.
Most recently, he worked as a technician for the pension fund run by the states of Berlin and Brandenburg -- fixing locks, adjusting desks and maintaining the fund's seven-story building's 13 elevators with the help of a red pushcart of tools he calls his "Ferrari."
"I haven't been unemployed for a single day in my life, so I've paid my dues," Heyn said. When he retired on Jan. 1, that translated into about 1,500 euros in monthly benefits.
Others in Germany argue that giving workers early pensions sends the wrong signal to companies that in recent years managed to increase employment of older workers by investing in on-the-job training and health programs.
Middle Ground
"The pension with 63 undermines these efforts that try to work against the demographic development," said Achim Dercks, deputy head of the German Chambers of Commerce and Industry. "For the first time in years, the employment rate of workers older than 60 is stagnating. The pension with 63 is turning into a risk."
What might help ease that a bit is exactly what Heyn's doing -- finding a sort of middle ground. The 63-year-old decided to keep working on the side in his old job for 5 1/2 hours a week until the end of next year. For Heyn, it's an extra 410 euros on top of his pension, and a soft exit from a job he loves.
"I just couldn't stop entirely because I enjoy tinkering with things too much," Heyn said as he pushed his tool cart across the building's sunlit hallways. "Also, I can't sit on my behind all day."
Before it's here, it's on the Bloomberg Terminal.
LEARN MORE