RBA's Aussie Rally Nightmare Worsens After Bond Premium Doubles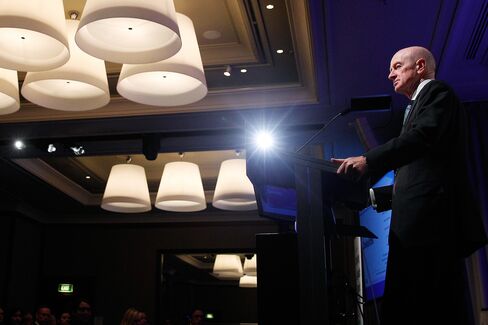 The trade that haunted central banker Glenn Stevens's quest for a weaker Aussie for four years is back after about three months of respite.
Australia's 10-year yield climbed 30 basis points to 2.99 percent since the Reserve Bank cut interest rates to an unprecedented 2 percent and said the country needs a weaker currency. That sent the premium over similar Treasuries to 75 basis points, more than double the 14-year low reached in March.
Bonds worldwide are tumbling this week, driving up yields that had reached record lows amid central bank bond purchases in Europe and Japan. Australian bonds fell for an eighth straight day Thursday and the 10-year rate topped 3 percent for the first time this year. The RBA's bullishness on household demand as it cut rates this week and a lack of guidance on future policy moves also fueled the local climb in yields as markets start to bet Stevens won't reduce borrowing costs again.
"The blowout in the spread will be making the Reserve Bank's job harder because it means that it becomes more attractive to park money in Australia," said Shane Oliver, head of investment strategy at AMP Capital Investors Ltd., which manages $124 billion. "At some point, the Reserve Bank will start to get concerned again and may intervene with the form of another rate cut or a return to an easing bias for the currency."
The currency was at 79.66 U.S. cents at 5:30 p.m. on Thursday, up 0.2 percent after government data showed the unemployment rate rose to 6.2 percent, matching economists' expectations. The Aussie has gained 1.5 percent since RBA Governor Stevens cut the central bank's key rate on Tuesday and labeled further depreciation of the Australian dollar as both "likely and necessary."
RBA Concern
The central bank has been expressing concern about a high Australian dollar since 2011, when it started lowering interest rates just three months after the currency reached $1.1081, the strongest level since it was freely floated in 1983.
The 10-year bond yield rose 7 basis points on Thursday, climbing for an eighth day. That matches the longest stretch of daily yield increases since February 2011, according to data compiled by Bloomberg. The last time the market went for a longer period without a decline in yields was in 2000, the data show.
Stevens is seeking to boost an economy struggling to cope with the end of a record mining boom even as central bank rate cuts spur anxiety that housing bubbles are developing in Sydney and Melbourne.
He has said policy is aimed at fostering "animal spirits" while the currency's drop lags behind the collapse in commodities prices, according to the RBA.
The Australian dollar has surged more than 5 percent from the almost six-year low it reached in April. Swaps traders were pricing in a 61 percent chance the RBA will hold rates at 2 percent through October, data compiled by Bloomberg show. On Tuesday, before the RBA announcement, they saw 53 percent odds the central bank benchmark would be 1.75 percent or lower by then.
Vanishing Premium?
Commonwealth Bank of Australia, the nation's largest lender, doubts the market is correct in judging the RBA has finished cutting rates. It forecasts that the yield premium over the U.S. will vanish, with Aussie yields dropping to 10 basis points below Treasuries in the first quarter of 2016.
"Over the course of the year the things which are currently looking good will weaken and that will bring the RBA back to the table by the end of the year or maybe early next year," said Philip Brown, a fixed-income strategist at Commonwealth Bank in Melbourne. "If they thought that the recent encouraging trend was self sustaining they wouldn't have cut rates, they've cut rates because it needs to be reinforced."
Prefers 75 Cents
Stevens, who said in December he would prefer to see the Aussie at 75 cents, now may be pinning his hopes on rate increases from the Federal Reserve, according to Goldman Sachs Asset Management.
While prospects that the RBA has finished with rate cuts could spur short-term gains in the Aussie, such a rally isn't likely to last, the money manager said. Australia's central bank will stand ready to talk the currency down, while the Fed probably will start raising its target rate in September, it said.
"For now, we're still a high quality, high-yielding market and that's going to go on attracting foreign investors," Philip Moffitt, head of Asia-Pacific fixed income at Goldman Sachs Asset Management, said Tuesday in a phone interview. "Sustained strength in the Aussie would be likely to be met with more instances of the RBA telling the market they think the currency is too high."
Before it's here, it's on the Bloomberg Terminal.
LEARN MORE