Nearly 17 million Americans gained health insurance in the first 18 months of Obamacare, according to new estimates from RAND Corp. that show far more people got insurance coverage than lost it since the most important provisions of the Affordable Care Act took effect.
The research group's number is consistent with earlier estimates and adds to the evidence that the law helped dramatically cut the number of Americans without health insurance. The RAND report comes a day after Republican senators adopted a budget plan that paves the way for an attempt to repeal Obamacare and as the Supreme Court considers whether to strike down a crucial piece of the law.
According to the study, people got insurance not just from the new Obamacare marketplaces but from expanded state Medicaid programs and employer coverage as well.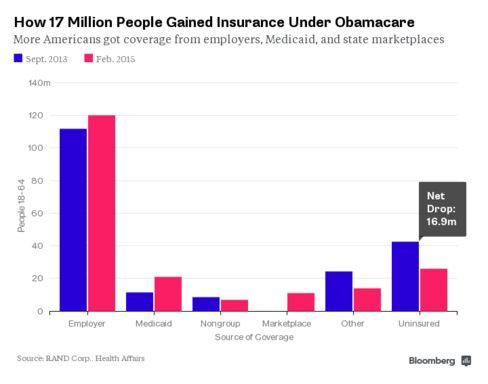 Employer health plans added about 8 million people to their rolls in a period when they added about 4.4 million jobs, according to seasonally adjusted data from the Bureau of Labor Statistics.
The RAND study, published today in the journal Health Affairs, measures changes in insurance coverage for adults under 65 between September 2013, right before healthcare.gov opened, and February 2015, when the window to enroll in Obamacare for this year closed. The net increase of 16.9 million newly insured takes into account people who gained coverage and those who lost it. Most people were unaffected: 80 percent reported no change to their insurance coverage.
The report is based on a survey with a relatively small sample—about 1,589 people who responded both in 2013 and 2015, so the numbers should be considered rough estimates rather than precise measurements. But because researchers queried the same people 18 months apart, they got a detailed look at how insurance coverage shifted in that period.
The Obama administration took some heat in late 2013 when insurers canceled millions of older health policies in the individual market that didn't meet the ACA's standards. That sparked claims by Obamacare foes, including House Speaker John Boehner (R-Ohio), that the law had caused more people to lose insurance than to gain it. RAND's estimates show the opposite, that about 600,000 out of 8.5 million people who lost their individual health policies wound up uninsured. That's a lot of people but hardly what critics claimed. By contrast, more than half of the 43 million people who started out uninsured in September 2013 had health insurance 18 months later.
They got coverage from employers (9.6 million), Medicaid (6.5 million), and the Obamacare marketplaces (4.1 million), among other sources. While some may have gotten coverage independently of the ACA—for example, by getting jobs with health benefits—the expansion of Medicaid and the subsidized marketplaces significantly contributed to the increase.
The benefits Obamacare promised to the uninsured were theoretical two years ago. Now they're real. Any effort to undo the law, by Republicans in Congress or the Supreme Court, will have to reckon with 16.9 million people who didn't have coverage a couple of years ago and do now.
Before it's here, it's on the Bloomberg Terminal.
LEARN MORE