Ben S. Bernanke isn't the only one who can cause markets to throw a tantrum.
The dollar fell to a three-month low as rising bond yields in Europe sapped demand for U.S. assets, creating a selloff Goldman Sachs Group Inc. compared to the "taper tantrum" the former Federal Reserve chairman initiated in 2013. Janet Yellen, the current Fed chair, added to the woes by saying long-term interest rates could jump when the central bank raises its benchmark rate, sending U.S. stocks and bonds lower.
"It's causing a major reversal of all the key themes of the last few months," said Matt Derr, a foreign-exchange strategist at Credit Suisse Group AG in New York. "It is resulting in less risk taking, smaller-sized positions and less leverage more broadly," which is putting pressure on the dollar, he said.
The Bloomberg Dollar Spot Index, which tracks the U.S. currency against 10 major peers, fell 0.7 percent to 1,160.75 at 5 p.m. in New York, the lowest on a closing basis since Feb. 5. The index slid 3 percent in April.
The dollar weakened 1.4 percent to $1.1347 per euro and declined 0.3 percent to 119.46 yen.
"Long-term interest rates are at very low levels," Yellen said in response to a question after a speech in Washington Wednesday. "We could see a sharp jump in long-term rates" after liftoff. Most Fed officials predict they will raise rates this year for the first time since 2006.
Dollar Demand
While the dollar is the best-performing major currency in the past year, gaining 16 percent, according to Bloomberg Correlation-Weighted Indexes, it's down more than 4 percent in the past month.
As the dollar has dropped, so have Treasuries, with 10-year note yields being pushed to close to the highest levels of this year.
"The consensus trades so far this year -- which were being long bonds, long dollar -- that seems to be gradually unwinding," Charles St-Arnaud, senior economist at Nomura Holdings Inc., said by phone from London. A long position is a bet an asset will increase in value.
Goldman Sachs says the recent losses won't last and investors can profit if they buy now as U.S. growth will improve.
U.S. economic growth slowed to an annual rate of 0.2 percent in the first quarter, from 2.2 percent in the previous three months, the Commerce Department said April 29.
Dollar 'Tantrum'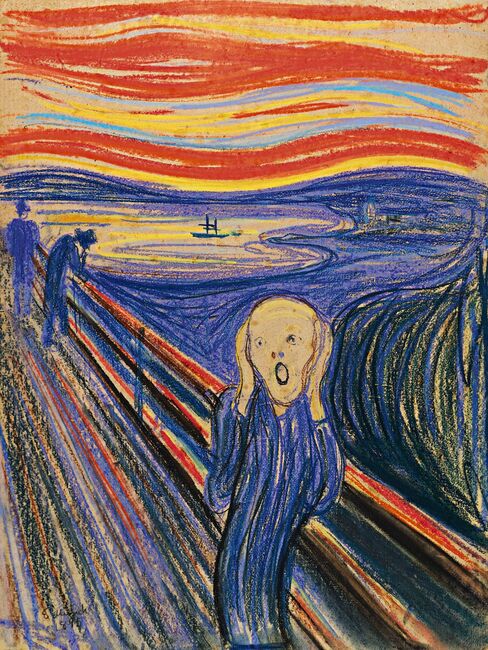 "After the perfect storm in March –- a dovish Fed and weak payrolls –- price action around last week's GDP disappointment was a howl of disapproval, something akin to the 'The Scream' by Edvard Munch," Goldman Sachs analysts, including Robin Brooks, the chief currency strategist in New York, wrote in a report. "Foreign-exchange markets appear to be throwing a 'tantrum.'"
In May 2013, Treasury yields jumped after Bernanke signaled that asset purchases might be scaled back -- or tapered -- sooner than investors expected.
The dollar will likely appreciate 19 percent to 95 cents versus the euro and about 9 percent to 130 yen in 12 months, the analysts wrote. That's more bullish than the consensus calls for the greenback to reach $1.03 per euro and 126 yen by March 31, 2016, based on data compiled by Bloomberg.
Before it's here, it's on the Bloomberg Terminal.
LEARN MORE