China Stock Alarm Louder as Morgan Stanley Ends Bullish Bet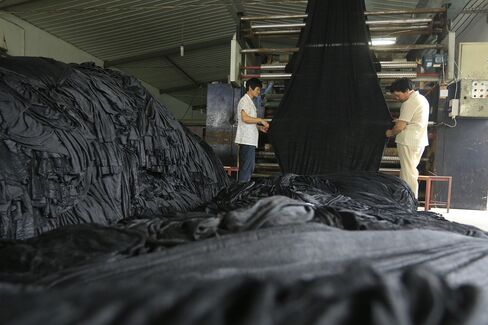 Add Morgan Stanley and BNP Paribas Investment Partners to the list of forecasters sounding an alarm about China's stock market.
Jonathan Garner, the chief Asia and emerging market strategist at Morgan Stanley, downgraded Chinese stocks for the first time in more than seven years on Thursday, citing the weakest corporate profits since 2009. BNP Paribas has sold some Chinese shares listed in Hong Kong on concern about ballooning mainland margin debt and the growing mismatch between equity prices and a deteriorating economy.
The Hang Seng China Enterprises Index of mainland companies traded in Hong Kong surged to a seven-year high last month amid record turnover in the city, before the advance stalled for the past two weeks. UBS Group AG expects regulators to step in to curb mainland gains, while asset managers from Macquarie Investment Management to Baron Capital Inc. have voiced concern that the rally has gone too far, too fast.
"When a market goes crazy like this, no other topic becomes interesting," Arthur Kwong, the head of Asia Pacific equities at BNP, which oversees about $573 billion globally, said in an interview on April 29. "That's a big negative signal -- it's as if nothing else is important. That makes me paranoid."
China's economy grew last quarter at the slowest pace since 2009 and reports from manufacturing to industrial output and exports missed estimates. Stock investors have largely taken bad news as good, with the Shanghai Composite Index up 70 percent through Wednesday since the central bank cut interest rates on Nov. 21 on optimism that policy makers will put a floor under the slowdown.
Catch-up Rally
Mainland companies traded in Hong Kong trailed the rally until March, when China's securities regulator said more fund managers could buy equities listed in the city. The Hang Seng China Enterprises Index soared 18 percent from then through Wednesday and turnover through the Shanghai-Hong Kong bourse link jumped. A similar Shenzhen cross-border trading program is expected this year.
Kwong says investors are too obsessed with the impact of money flows through the connect, and the stock frenzy reminds him of the market peak in 2007.
"Now it's very unfashionable to talk about being careful, it's quite old fashioned," he said. "Fundamentally we are worse, but the market excitement is similar. This is something that worries me."
2007 Peak
The H-share gauge surged to an all-time high in October 2007, then plunged 76 percent within a year. Before mid-2008, Chinese manufacturing was expanding, industrial output was increasing at almost triple the current pace, and gross domestic product growth was above 10 percent. The stock index today is 48 percent away from its 2007 peak. It slipped 1.6 percent at the close, while the Shanghai Composite extended its three-day slump to 8.2 percent.
For Garner, the downgrade to equalweight from overweight for shares in the MSCI China Index was spurred by rising valuations and deteriorating earnings. The gauge's price-to-book ratio is now the highest since March 2012 and return on equity, a gauge of profitability, has shrunk to the lowest since the global recession six years ago, the Hong Kong-based strategist wrote in a report.
"China is no longer going to outperform other emerging markets," Garner said in a phone interview Thursday. "We'd like to recommend taking some profits."
Margin Debt
Chinese investors are borrowing record amounts to plow into equities. The outstanding balance of margin debt on the Shanghai exchange climbed to an all-time high of 1.24 trillion yuan ($200 billion) on Tuesday, while the number of Chinese stock accounts containing funds increased to a record 63.7 million in the week ended May 1.
Bulls say they're making the right call. The market can only be considered in a bubble if it doubles, and China remains attractive relative to other emerging and Asian markets based on valuations, Citigroup Inc. analysts led by Markus Rosgen wrote in a note last month.
BNP's Kwong says he's now "a bit underweight" on China relative to the benchmarks he tracks. He recently sold some infrastructure and heavy machinery shares and shifted into insurers, which have lagged the rally, declining to name specific companies. The MSCI China Industrials Index surged 28 percent since March 27 through Wednesday, compared with an average 16 percent rise by the nation's top three insurers.
Kwong has added shares from Southeast Asia, which have better prospects for a rally, he said. Still, there are pockets of China's market with attractive companies even if the overall outlook isn't promising, he said.
"Even though we are skeptical about the market, the recent rally is something you must submit to," said Kwong. "When the market is going up and you're saying something rational, people wouldn't want to listen. But based on fundamentals, I need to remind people and be responsible."
Before it's here, it's on the Bloomberg Terminal.
LEARN MORE