New Democratic Win in Alberta Sends Energy Shares Sliding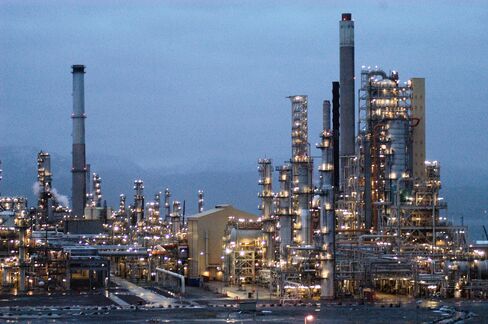 (Bloomberg) -- Canadian energy stocks from Suncor Energy Inc. to Enbridge Inc. tumbled after the New Democratic Party swept to power in Alberta, pledging to raise corporate taxes in an industry already buffeted by low oil prices and stalled pipelines.
The NDP, led by Rachel Notley, ended a 44-year Progressive Conservative dynasty by winning a majority of districts in elections Tuesday, according to Elections Alberta. The NDP promises to boost corporate taxes, review the government's take of energy revenue, scale back advocacy for pipelines and phase out coal power more quickly.
"It's completely devastating," for energy companies and investors, Rafi Tahmazian, who helps manage C$1 billion ($831 million) in energy funds at Canoe Financial LP in Calgary, said on Tuesday. "The perception from the market based on their comments is they're extremely dangerous."
Suncor, Canada's biggest oil producer by market value, dropped 4.3 percent to $36.69 at 10:14 a.m. in Toronto, pipeline company Enbridge fell 2.7 percent to C$61 while Canadian Oil Sands Ltd. slid 5.4 percent to C$12.76. The Standard & Poor's/TSX Energy Index of 64 companies fell 3.1 percent, its biggest drop since Feb. 10.
West Texas Intermediate, the North American crude benchmark, rose 2.7 percent to $62 per barrel in early trade while the S&P 500 index of U.S. energy stocks rose.
The election results may stall investment in the oil patch, which is counting on more than C$500 billion in spending over the next three decades in the oil sands alone.
Capital Mobile
"The NDP's stance on pipelines is clearly to remove government support of pipelines and be less of a cheerleader," John Stephenson, chief executive officer of Stephenson & Co. said in a phone interview from Toronto. His firm manages about C$50 million.
Energy producers in Alberta, the heart of the Canadian industry, are cutting jobs, reducing drilling and shelving billions of dollars of new investment because of the oil price collapse. While U.S. crude's rise to around $60 a barrel from a six-year low in March has injected fresh optimism into the industry, executives are preparing for a slow recovery to levels that would make new projects profitable in the oil sands, the world's third-largest reserves.
"We are in a time when investors want to see a quick return on capital and less long lead time mega-projects," according a report Wednesday by Dundee Capital Markets Inc. led by Brian Kristjansen. "Capital is extremely mobile and can easily move out of Alberta at the first sign of uncertainty."
Clear Negative
U.S. investor clients of Calgary-based investment bank AltaCorp Capital Inc. were pulling positions in Canadian stocks in the run up to the election, anticipating an NDP victory, said analyst Jeremy McCrea.
Suncor, Imperial Oil Ltd., Canadian Natural Resources Ltd. and Cenovus Energy Inc. are among Canada's largest oil-sands operators.
"Now is not the time for a royalty review," said Jeff Gaulin, vice president of communications at the Canadian Association of Petroleum Producers. "The uncertainty that that would create for investment would jeopardize jobs in Alberta."
Good Partner
The energy lobby group is confident it can nonetheless work with Notley's NDP, Gaulin said.
"Our government will be a good partner" for the energy industry, Notley, 51, said in her victory speech.
There's a precedent for a stock sell-off based on Alberta energy policy. Canadian oil and gas stocks lost ground to their U.S. peers around October 2007 when the Progressive Conservative government raised royalty rates. The shares traded about 14 percent lower for more than a year, until early indications the government would consider reversing the hikes, according to an AltaCorp analysis. In 2010, the PCs led by Ed Stelmach retreated from most of the royalty boost.
"If you are invested in energy stocks, you should be concerned," McCrea said. Drillers already face higher costs to extract oil and gas in Alberta than in many jurisdictions, so an increase in royalties would make the province even less competitive, he said.
The number of oil rigs deployed in Canada's biggest energy-producing province is at its lowest since 2009 after oil lost half its value last year, according to Baker Hughes Inc. data. Already, Western Canada's oil growth is poised to slow by 59 percent next year, according to the Canadian Energy Research Institute.
Keystone XL
Oil growth in the region will slow to 17,000 barrels a day by next year from 41,000 barrels a day in 2014 as conventional production from drilling declines and stays below last year's levels through the rest of the decade, according to CERI.
While not in the party's official platform, Notley has said she will not advocate for the Keystone XL and Northern Gateway pipelines, oil export projects that have come under fire from environmental opponents of the oil sands and communities fearful of spills along their paths. She has said that Kinder Morgan Inc.'s Trans Mountain line and TransCanada Corp.'s Energy East project are worth discussion.
The Alberta government has been a champion in Washington of Keystone XL, TransCanada's $8 billion pipeline awaiting a decision by U.S. President Barack Obama. Previous provincial leaders have joined the Canadian government in raising awareness about oil-sands development and regulation to try to win U.S. support for Keystone, a line proposed in 2008 that would transport Canadian crude to the U.S. Gulf Coast.''
Minimum Wage
Under the NDP, the corporate tax rate will increase to 12 percent from 10 percent. Notley will form a committee to review royalties and has said she will support more refining of oil in the province, despite a commonly-held view by investors and companies that it isn't profitable.
The new premier will also increase the minimum wage to C$15 an hour and impose stiffer environmental standards and monitoring, according to the party's election platform. In addition, the NDP leader will ban gas drilling in urban areas. The NDP would phase out coal-fired power plants more quickly than federal regulations that limit them to a 50-year life.
Coal is the biggest contributor to the electricity supply in Alberta, where Westmoreland Coal Co., TransAlta Corp. and Teck Resources Ltd. are among producers. Teck dropped 2.6 percent to C$18.21 while TransAlta slide 4.3 percent to C$11.25.
Alberta and Saskatchewan lead the country in the use of coal for electricity, and both provinces have the highest per capita carbon emissions in Canada, at more than 60 metric tons, compared with 12.5 tons in Ontario, according to Environment Canada figures.
Still, Notley's platform is a general guideline and the new premier will probably move carefully on economic policies, said Jim Lightbody, chair of the University of Alberta's political science department in Edmonton. She wouldn't be able to govern the province and make moves detrimental to the energy industry, he said.
"I would project that she moves carefully, cautiously, sensibly," Lightbody said.
To contact the reporters on this story: Rebecca Penty in Calgary at rpenty@bloomberg.net; Robert Tuttle in Calgary at rtuttle@bloomberg.net
To contact the editors responsible for this story: David Scanlan at dscanlan@bloomberg.net Carlos Caminada, Jacqueline Thorpe
Before it's here, it's on the Bloomberg Terminal.
LEARN MORE