Zoetis to Cut Up to 25% of Workforce After Ackman's Pressure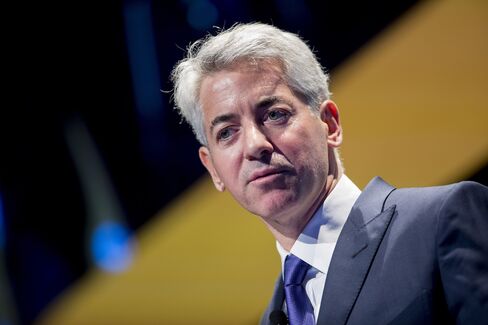 Zoetis Inc., the animal-health drugmaker that was spun off from Pfizer Inc., will fire as many as 2,500 workers -- about one-quarter of its workforce -- after facing pressure from activist investor Bill Ackman to pare down.
The dismissals are part of a plan to cut $300 million in annual costs by 2017. Zoetis will shutter or sell 10 manufacturing sites and will reduce its geographical divisions from four to two, among other measures, the company said Tuesday in a statement. The reduction in expenses will entail as much as $500 million in one-time charges and will boost Zoetis's 2017 operating profit by $200 million, the company said.
Ackman, who took a stake of more than 8 percent in the drugmaker in November, saw a big opportunity to cut costs, people familiar with the matter said at the time. Zoetis this year has added two board members backed by the activist shareholder.
First-quarter earnings, excluding some items, were 41 cents a share, beating the 37-cent average estimate of analysts. Revenue at the Florham Park, New Jersey-based company increased to $1.1 billion. Analysts had forecast $1.11 billion.
While Zoetis maintained its 2015 earnings forecast of $1.61 to $1.68 a share, it cut its projection for sales to a range of $4.68 billion to $4.78 billion, compared with the previous prediction of $4.8 billion to $4.9 billion.
Venezuela Plan
The company also said it will scale back its Venezuelan operations, where lower crude prices and hyperinflation have eroded the value of the currency. The bolivar has dropped 39 percent this year against the dollar on the black market, according to dolartoday.com.
Zoetis shares rose less than 1 percent to $45.68 at the close in New York. The stock has climbed 6.2 percent this year.
Ackman's Pershing Square Capital Management is Zoetis's largest shareholder, according to data compiled by Bloomberg. While his investment in the company led to speculation he would press for a sale, he told CNBC Monday that Zoetis is a great business on its own.
Pfizer spun off Zoetis in 2013. The company gets most of its revenue from sales of drugs to keep cattle, pigs and chickens free of infection as they're raised for food.
Before it's here, it's on the Bloomberg Terminal.
LEARN MORE