Since the advent of television, candidates and parties standing in British parliamentary elections have been barred from buying TV time to sway voters. YouTube is changing that.
The video-sharing website and its peers allow candidates and parties to sidestep decades-old restrictions on broadcast advertising. In advance of the May 7 election, YouTube, Twitter, Facebook and other sites have been jammed with videos -- ranging from cheeky to turgid -- seeking to galvanize support.
All told, election videos have been played millions of times. The Greens have racked up more than 830,000 views with "Change the Tune", a parody with singers impersonating Prime Minister David Cameron, Labour chief Ed Miliband and other party leaders as a boyband crooning about their shared love of austerity, tuition fees and fracking.
The Labour Party has managed 283,000 views of a clip of actor Martin Freeman -- Bilbo Baggins in The Hobbit -- stressing issues such as raising the minimum wage and the importance of jobs for young people.
And the Conservative Party has posted a series of more than a half-dozen videos, which together have garnered some 1.5 million hits, saying that leadership by Miliband would augur chaos for Britain.
The parties are also buying so-called pre-roll advertising on YouTube -- short ads that precede clips on other topics -- and paying Facebook and Twitter to aim advertising at viewers based on age, gender, location and interests.
https://www.youtube.com/watch?v=JbHNVtsAD2M
https://www.youtube.com/watch?v=d2GB0gY6Gvk
"You can see just how much the marketing landscape has changed with this flurry of videos," said Jon Davie, the head of digital marketing agency Zone. "If you can buy video ads on YouTube, why can't you buy them on ITV, Channel 4 or Sky?"
The clips mark a dramatic shift from the last election cycle. The Greens had no political spoofs and their YouTube channel featured little more than clips of speeches. Labour aired serious content such as then-leader Gordon Brown speaking to mothers outside a supermarket. The Conservatives ran a series called "WebCameron" showing the party leader washing dishes and making porridge for his children as he talked about his political message (though the videos were later taken down).
Until the advent of online video, the only forum where candidates could use TV to reach voters was during blocks of political ads on major channels. The biggest parties are given several two-to-five-minute slots during prime-time, in which they have traditionally offered bland fare such as a Conservative clip in which parents opine on their hopes for their children and a Labour segment profiling medical workers.
Britain's new Internet advertising, while lower-wattage than the attack ads of U.S. politics, is engineered for maximum emotional appeal. Tory segments dub Miliband "Red Ed" and portray him as a puppet of the separatist Scottish National Party.
https://www.youtube.com/watch?v=6JeYlBRvUeE
In a Labour clip, comedian Jo Brand says the Conservatives will gut the National Health Service. "A decent society looks after its people," says Brand, a former NHS nurse.
https://www.youtube.com/watch?v=UpDN-XAVDOM
"The parties are using the online space to air videos faster and nastier than they could traditionally do with the television broadcasts," said Nick Anstead, a professor of media at the London School of Economics. "If you tried to show them on the regular telly, you'd alienate viewers."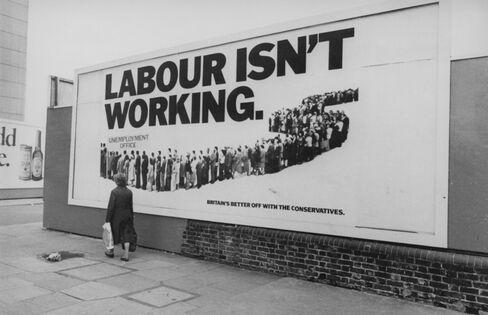 YouTube and other sites have supplanted billboards as the primary vehicle for election advertising. In 1979, Margaret Thatcher's Conservatives opened that front with billboards depicting a long queue at an unemployment office and the tag line, "Labour Isn't Working."
The ads generated loads of media attention -- echoed even today -- and established the ad industry's place in elections. After growing steadily for more than three decades, billboard advertising this time around has largely disappeared, according to Richard Huntington, chief strategy officer in London at ad agency Saatchi & Saatchi, which created the 1979 ad for the Tories.
All the major parties declined to provide data on their use of social media in the election. YouTube, Facebook and Twitter declined to provide numbers on ad sales related to the election.
Last fall -- long before the start of the campaign -- the Conservatives were spending more than 110,000 pounds a month advertising on Facebook, according to invoices leaked to British media. While that's a pittance compared to the billions that will be spent in next year's campaigns in the U.S., it's growing fast -- spurring increased concern about the role of money in British politics, said Marcus Beard, a political analyst at online researcher Brandwatch.
"Paid adverts on YouTube are the same as TV ads, but the legislation hasn't kept up," said Beard, who predicts that by the next national election Britain will either regulate social media spending or allow advertising on radio and television. British elections are "becoming more hostile, and as much as we like to believe we're not like the Americans, our approach to elections is becoming more like theirs."
Before it's here, it's on the Bloomberg Terminal.
LEARN MORE