VW Chairman Question Is Open as Investors Meet Without Piech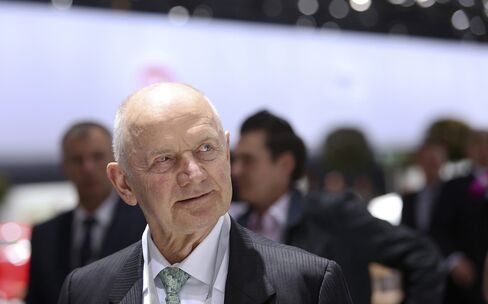 At Volkswagen AG's shareholder meeting, the elephant in the room has a name: Ferdinand Piech.
Tuesday's gathering of some 3,000 investors in Hanover, Germany, was the first in more than two decades without the participation of VW's former chairman and chief executive officer, after his abrupt resignation on April 25.
Though CEO Martin Winterkorn said the company has "returned to calmer waters," the three-week power struggle that led to Piech's departure will have lingering consequences for the world's second-biggest carmaker as the search for his replacement remains unresolved.
The 78-year-old grandson of VW Beetle creator Ferdinand Porsche still exerts influence behind the scenes. He complained before the meeting that the family members replacing him and his wife on the board don't have enough automotive experience, Germany's Bild newspaper reported. The criticism shows how hard it will be to find a new chairman who pleases the factions of the Porsche-Piech clan that controls the carmaker, as well as labor leaders and shareholders Lower Saxony and Qatar.
Piech made an "extraordinary contribution" to Volkswagen's success, and the family will take its time deciding who will follow him, interim Chairman Berthold Huber, former head of the German labor union IG Metall, said at the meeting.
Replacing Piech
Given Piech's legacy and his position within the family, "it's important to find a face-saving solution, and that's not very easy," said Frank Biller, an analyst with LBBW in Stuttgart, Germany. "It's a deadlock to an extent."
The VW patriarch's nieces Louise Kiesling and Julia Kuhn-Piech are filling the seats he and his wife, Ursula Piech, occupied on the supervisory board. The Porsche-Piech family has half the 10 seats on the investor side of VW's board and controls 50.7 percent of the voting shares. The investor side of the board represents shareholders, while the other half is made up of worker representatives. Piech also still has a seat on the board of the clan's investment vehicle, Porsche Automobil Holding SE.
For shareholders, VW's management turmoil "has been terrible," Ulrich Hocker, a representative of private investor association Deutsche Schutzvereinigung fur Wertpapierbesitz, said at the meeting. He called on VW board members to explain the reason for the public quarrel and said Piech is leaving "some very big shoes to fill."
"I don't envy you," Hocker told Kiesling and Kuhn-Piech.
Piech's Fight
Piech started the fight on April 10 by telling Der Spiegel magazine that he was keeping his distance from Winterkorn. The shareholding families and labor and political leaders led by Piech's cousin Wolfgang Porsche quickly rallied to support the CEO, delivering Piech a rare boardroom defeat and saying on April 17 that they plan to extend the CEO's contract when his current term ends next year. Even then, Piech continued to pursue the ouster of his former confidant, eventually resigning when he failed to secure it.
Winterkorn has helped lead Wolfsburg, Germany-based VW to within spitting distance of Toyota Motor Corp.'s place atop the global car market, and investors applauded today as he said the company now has clarity about its future direction. Still, with Winterkorn turning 68 later this month, broader succession issues will remain on the agenda.
The CEO vowed to fix flagging U.S. sales of VW's namesake passenger-car brand and keep working on a new budget vehicle. Of the chairman search, he said executives and the board are "working hard to swiftly resolve the remaining issues."
Inner Circle
Before the meeting started, Winterkorn toured an exhibit of VW vehicles in a hall next door, trailed by an inner circle that included Lower Saxony Prime Minister Stephan Weil, Wolfgang Porsche, Piech's brother Hans-Michel Piech and other family members. Surrounded by a pack of reporters, they looked at a gray Skoda, the chassis of the latest Seat Leon model and a blue Lamborghini Asterion hybrid.
When they reached the Porsche exhibit, brand chief Matthias Mueller, whom Piech had pushed as a possible successor for Winterkorn, showed the top brass a white 918 Spyder plug-in hybrid race car and then looked around for the new supervisory board members.
"Where's Mrs. Kuhn-Piech?" Mueller said, then walked over to a white Panamera S E-hybrid, which VW's latest power player wanted to check out.
Before it's here, it's on the Bloomberg Terminal.
LEARN MORE