U.S. Open Fairways Will Be Off Limits for Streaming Video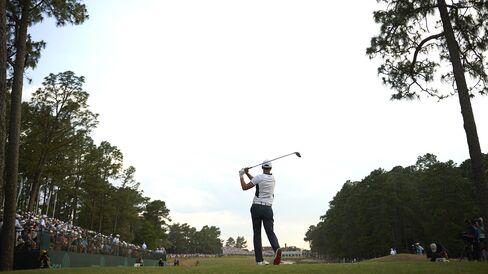 U.S. Open fairways will be out of bounds for live video streaming at next month's tournament in Washington.
While golf fans will be allowed to bring their phones on the course for the first time at golf's second-oldest tournament, apps such as Periscope and Meerkat will be prohibited.
"Violation of the above policy may result in immediate expulsion and loss of ticket privileges for the remainder of the championship," guidelines from the U.S. Golf Association say for the tournament at Chambers Bay golf course in University Place, Washington.
The U.S. PGA Tour last week stripped golf blogger Stephanie Wei of her media credential after she streamed live video of Masters Tournament winner Jordan Spieth during a practice round at the World Golf Championship Match Play event. Wei, 32, had been warned after posting a similar video of Tiger Woods on Instagram this year.
Sarah Hirshland, senior managing director of business affairs for Far Hills, New Jersey-based USGA, said the time may come when fans or media are allowed to stream video from tournaments, but that policy change would have to take many factors into consideration, mostly protecting the broadcast rights of media partners.
"It's not as simple as simply saying 'hey, we saw this person doing this thing and it was really cool so let's just let them do it,'" Hirshland said in a telephone interview. "We've got to really be deliberate and think about implications over the long term and think about the positive and the negative. I'm not so sure it's as simple as black and white."
$1 Billion Rights
Fox Entertainment Group's Fox Sports is broadcasting USGA events this year as part of a 12-year agreement reached in August 2013. The network paid about $1 billion for the rights, more than double the previous contract with NBCUniversal LLC.
The PGA Tour's decision to ban Wei, who had been issued a full-season media credential for her WeiUnderPar.com website, drew a mix of support and criticism for both the writer and the tour. Many golf followers took to social media calling the tour's stance too harsh, while others said Wei deserved to be banished.
Wei, on her blog, said she was simply trying to "spread fanfare for the tour, its players and the event."
PGA Tour Chief Marketing Officer Ty Votaw told Sports Illustrated that Wei was "stealing" when she posted the video.
"I don't understand how you can't get that through your head," he said.
Spectators at PGA Tour events are also not allowed to stream video at any time, according to its mobile-device policy.
Other Leagues
While the National Hockey League and other professional sports organizations have similar policies against fans and media members streaming video from games, Major League Baseball has embraced the technology and said it won't prohibit fans or media members from sharing live video from its venues. The National Football League said it plans to evaluate the technology during the offseason.
At the U.S. Open, scheduled for June 18-21, spectators will be permitted to use stand-alone cameras and mobile-device cameras during practice rounds (Monday through Wednesday) for personal photographic use. Video and audio recording are not permitted at any time with any device.
The USGA's Hirshland, who joined the governing body in 2011 after four years as an executive at Wasserman Media Group, is less combative than Votaw about the USGA's stance on the issue.
"Nobody wants to be overly protectionist," she said. "But at the same time, you do want to protect your brand and the quality of the viewing experience."
Before it's here, it's on the Bloomberg Terminal.
LEARN MORE