It's Time to Get Ready for the End of China's Bull Market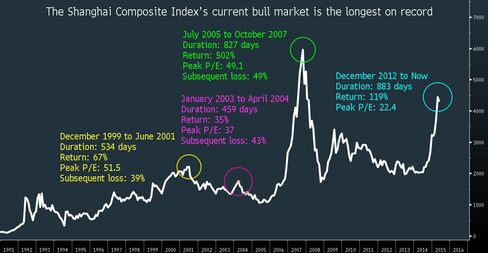 For Chinese investors with a sense of history, the nation's world-beating equity rally is looking long overdue for a reversal.
The bull market turned 883 days old on Tuesday, topping China's previous record by 56 days, after a 119 percent surge in the Shanghai Composite Index since December 2012. Even if the advance is measured from June 2013 -- when the gauge narrowly avoided a bear-market drop of 20 percent -- it's still the second longest since Chinese bourses opened for trading in 1990.
The rally's age is concerning in a market notorious for how quickly it can turn from boom to bust: the 194-day average lifespan of Shanghai bull markets is the shortest among the world's 10 biggest bourses and compares with the 1,625-day mean for the Standard & Poor's 500 Index since 1965. While China's official Xinhua News Agency said Tuesday that the rally has further to go, the Shanghai Composite completed its biggest two-day drop in three months today.
"There's no need to chase stocks at this level," said Wei Wei, an analyst at West China Securities Co. in Shanghai. "Lots of stocks are not justified by current prices."
Here's how the current bull market stacks up against China's three other longest rallies:
*December 2012 to Tuesday*
What happened: Monetary stimulus, reform speculation at state-owned companies, record margin trading Duration: 883 days Return: 119 percent Price-to-earnings ratio at peak: 22.4
*July 2005 to October 2007*
What happened: Surging economy, jump in new stock accounts, IPOs by state companies Duration: 827 days Return: 502 percent Peak P/E: 49.1 Subsequent bear-market loss: 49 percent
*December 1999 to June 2001*
What happened: Global dot-com bubble, reduced restrictions on foreign-currency shares Duration: 534 days Return: 67 percent Peak P/E: 51.5 Subsequent loss: 39 percent
*January 2003 to April 2004*
What happened: Economic growth tops forecasts, corporate earnings increase, IPOs surge Duration: 459 days Return: 35 percent Peak P/E: 37 Subsequent loss: 43 percent
— With assistance by Shidong Zhang
Before it's here, it's on the Bloomberg Terminal.
LEARN MORE