SL Green in Pact With NYC Officials on Midtown Skyscraper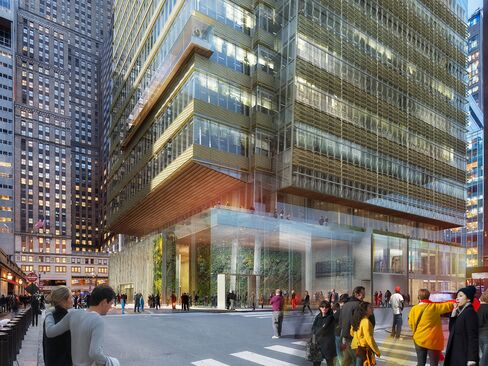 SL Green Realty Corp. reached an agreement with New York City Councilman Dan Garodnick and other officials that the company expects will allow it to build a skyscraper near Grand Central Terminal in midtown Manhattan.
Garodnick said he supports the real estate investment trust's proposal for 1 Vanderbilt, a 1.6 million-square-foot (149,000-square-meter) tower on Vanderbilt Avenue, and zoning changes to the area that would be needed. As part of the project, SL Green plans to invest $220 million for transit upgrades near Grand Central. With approval of the full City Council, the tower could be completed by 2020, SL Green Chief Executive Officer Marc Holliday said.
"We have struck a much better deal for the public, and we will start seeing real benefits to Grand Central in the near term, even before a single new building is occupied," Garodnick said at a news conference Tuesday.
The councilman, whose district includes the 1 Vanderbilt site just west of the transit hub, said the agreement sets the stage for a wider rezoning of east Midtown that would permit taller towers in the area. Michael Bloomberg, in his final year as mayor in 2013, pushed for a rezoning, only to have the plan rejected by key council members. Garodnick and Manhattan Borough President Gail Brewer are working together on a new proposal that they intend to present in a few months.
Bloomberg is founder and majority owner of Bloomberg News parent Bloomberg LP.
The City Council is set to vote Tuesday on zoning changes to a five-block stretch of Vanderbilt Avenue, the side street just west of the terminal. Under the plan, special permits would allow construction of towers that are larger and taller than allowed under present rules. Developers would be required to pay upfront for improvements to pedestrian circulation, to accommodate the higher density the new buildings would bring.
Subway Upgrades
Transit upgrades that SL Green's paying for will "ease overcrowding and allow trains to move more quickly," Garodnick said in front of City Hall, where he was joined by Holliday, SL Green Chairman Stephen L. Green, building trade union leaders and New York transit advocates Gene Russianoff and John Raskin.
Another subway train "will be able to go through the station every hour at the rush," he said. The 4, 5 and 6 subways on the Lexington Avenue line serve Grand Central, and are known to be especially crowded and subject to delays.
SL Green, New York's biggest owner of office buildings, also will build two transit halls that would enable a freer flow of commuters in the area, including one on 42nd Street that would require the company to forgo valuable retail space.
The company "received nothing in return other than the ability to have the project go forward" at greater density, Holliday said.
After the council approves the Vanderbilt zoning changes, the proposal will go back to the city planning commission, which is expected to approve it this month, Garodnick said. Then, the council will vote on final approval for the Vanderbilt rezoning and SL Green's special permit, he said.
Before it's here, it's on the Bloomberg Terminal.
LEARN MORE