Patriot Act a la Francaise Passes Even as Opposition Mounts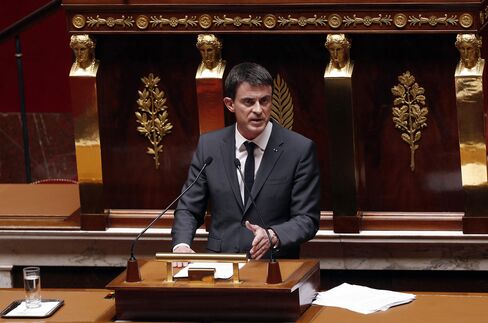 A proposed French law beefing up the government's spying powers following the Charlie Hebdo terrorist attacks in Paris sailed through the lower house of parliament.
The National Assembly said 438 lawmakers voted in favor, 86 against, and 42 abstained. The bill now goes to the Senate which can suggest amendments but not overturn the assembly's vote.
The wide margin of victory came even as mounting opposition to the bill united business leaders, the Communist Party, Internet activists and lawyers. The country's two main parties - - the ruling Socialists and former President Nicolas Sarkozy's UMP -- back it as necessary to combat terrorism, even though some prominent members of both parties voted against it.
The bill has generated heated rhetoric: the head of the Paris Bar and a former head of the country's business lobby said it will seriously undermine constitutional liberties while Prime Minister Manuel Valls accused opponents of being naive about the threats facing France. The fallout from the disclosure in 2013 of massive surveillance by U.S. authorities, and the enduring negative reputation of George W. Bush's 2001 "Patriot Act" have added to the controversy.
"This law doesn't go as far as the Patriot Act because that was never its founders' intention and because even if they wanted to copy their American counterparts, the French services lack the means to listen to everyone permanently," said Eric Denece, director of the French Center for the Study of Intelligence. "We need a structure for things that the security services are doing anyway. I'd say this law gets it right about 90 percent of the time.'
All sides agree that France needs a new framework law for its intelligence services, which are operating under a directive from 1991 -- before the use of the Internet and mobile phones became ubiquitous.
Tapping Phones
''The 1991 law is no longer adapted to the digital age," Valls said in a speech to parliament on April 13 as he presented the bill. "It's time France had a legal framework that exists in most Western democracies, while respecting our laws and our republican values."
The proposed law sets rules on how investigators can tap phone lines, locate people through mobile phones, intercept e-mails, take secret photographs and enter homes to place microphones without preliminary approval of a judge. It also creates a new independent body overseeing surveillance activities. And for the first time, it gives France's top administrative court the power to order an end to surveillance.
Opponents have focused on its supposed lack of effective oversight, its wide definition of threats facing France, and the use of algorithms to analyze communication patterns.
"Serious flaws include expansive powers for the prime minister to authorize surveillance for purposes far beyond those recognized in international human rights law; lack of meaningful judicial oversight; requirements for private service providers to monitor and analyze user data and report suspicious patterns; prolonged retention periods for some captured data; and little public transparency," Human Rights Watch said in a April 6 statement.
'Preventing Threats'
Valls rejected the criticism in his speech to parliament.
"The law is strictly focused on preventing serious threats," he said. "The criticisms and postures that evoke a French Patriot Act or a police state are irresponsible lies."
That hasn't stopped Laurence Parisot, the former head of France's business lobby Medef, from calling the bill a "freedom killer" nor Pierre-Olivier Sur, the President of the Paris Bar, from saying that it "seriously threatens public liberties."
To Denece, the intelligence expert, its main flaw is the lack of a time limit.
"It would be better if the law had a mechanism to take stock of it after three or five years," he said.
Eva Joly, a former anti-corruption investigative magistrate who unsuccessfully ran for president as a Green Party candidate, said in an interview that the proposed law's focus on mass data and electronic surveillance is "costly, inefficient and creates a surveillance society."
Charlie Hebdo
Police's failures to stop the January attacks in Paris at satirical magazine Charlie Hebdo and at a kosher grocery store weren't due to legal constraints, but a lack of means to track suspects, she said.
"The targets were on the al-Qaeda list, the killers were known to the police," she said. "There was no need for any algorithm."
The three radical Islamists who killed 17 people in Paris had been under off-and-on surveillance, but police appear to have missed that much of the communication was conducted on mobile phones registered to the attackers' wives and girlfriends.
Another argument raised by PM Valls is that France needs wider surveillance of suspects because between 5,000 and 6,000 Europeans have traveled to Syria to join radical Islamic groups and may well come back to France, as is their right, most without even a passport.
Before it's here, it's on the Bloomberg Terminal.
LEARN MORE