Shale Giants See Growth Again After 40% Price Climb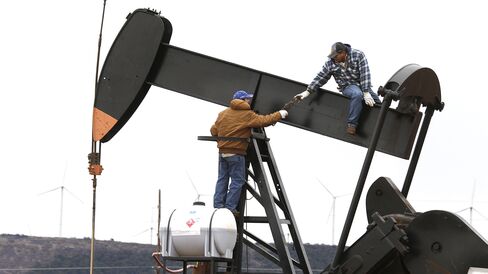 EOG Resources Inc. and Pioneer Natural Resources Co., two of the largest shale-oil producers, are preparing to boost drilling again after oil prices climbed 40 percent in the past seven weeks.
EOG Chairman and Chief Executive Officer William Thomas said Tuesday his company will increase drilling as soon as oil prices, which closed above $60 a barrel for the first time this year, stabilize at $65. Pioneer is planning to add drilling rigs starting in July, subject to oil price movements and the sale of other assets.
New drilling now means the companies can add to production in 2016. The statements come a month before the Organization of Petroleum Exporting Countries is scheduled to meet to discuss supply quotas. The price of West Texas Intermediate, a U.S. benchmark, has gained on speculation the oil glut was easing. Drillers cut rigs to a five-year low after prices fell by more than half since June, spurring billions in spending cuts and more than 100,000 industry job losses.
EOG will be "heading into 2016 on a very strong note," Thomas told investors on a call. EOG plans to boost output in the fourth quarter and double-digit growth could return by 2016.
Other major shale companies are weighing when the time will be right, said Ed Hirs, a lecturer on energy economics at the University of Houston.
"EOG is a tremendous technical company," said Hirs, who runs his own small oil production firm. "EOG, Pioneer and others have plenty of opportunities. They are looking ahead to the inevitable and are deciding to get ready."
Spending Cuts
Prior to today's comments, Houston-based EOG had slashed spending almost 40 percent from last year's level, cutting the number of rigs drilling for oil and natural gas from 32 to 18 in two of its three core areas. Oil prices crashed after OPEC decided in November to leave output levels unchanged.
Initially, EOG will grow by completing wells as soon as the third quarter, Thomas said. Shale producers have left thousands of wells essentially half-finished, waiting for prices to rebound before they frack them, according to Bloomberg Intelligence. EOG will make that decision by July.
"They are managing growth," said Fadel Gheit, an analyst with Oppenheimer & Co. in New York. Prices have rebounded faster than many anticipated and EOG as well as other companies seem to be waiting to make sure the rally holds, he said.
Einhorn Criticism
Hedge fund manager David Einhorn on Monday criticized shale companies including EOG, saying many didn't generate free cash flow when oil was trading above $100 a barrel last year. They haven't adjusted to the new reality of oil at almost half of last year's prices, he said.
Earnings at major independent oil companies have been poor for the first quarter. Anadarko Petroleum Corp. reported its biggest loss in more than a decade largely due to a $3.7 billion writedown from one gas field in Utah.
Pioneer had its first quarterly loss on an adjusted basis since 2009. The company plans to begin adding two rigs a month in the Spraberry/Wolfcamp area subject to market conditions and the sale of its pipelines and processing business in the Eagle Ford.
"These drilling rig additions are expected to have only a minimal impact on 2015 production due to timing of multi-well pad drilling," Irving, Texas-based Pioneer said in the statement. Instead, the drilling will "provide production growth in 2016 compared to relatively flat production in 2016 if no rigs are added."
EOG on Monday reported a $169.7 million net loss for the first quarter, its first negative results in more than two years.
The company, which operates predominantly in South and West Texas, the Rocky Mountains and in North Dakota's Bakken formation, has said it can turn a 30 percent profit even with crude prices of about $55 a barrel.
"We don't want to get in a hurry," Thomas said. "We don't want to jump-start completions" and then see the price fall.
Before it's here, it's on the Bloomberg Terminal.
LEARN MORE