Brazil Reconsiders Land Ownership Ban in Commodities Bust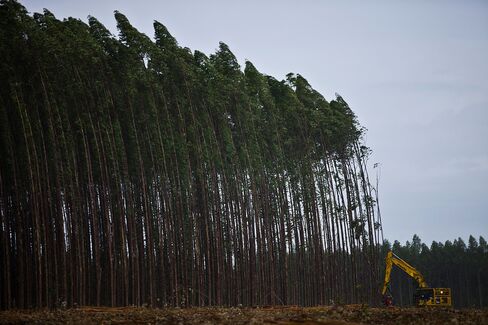 Brazil is looking at easing restrictions on the acquisition of land by foreigners to boost investment in agriculture and forestry as Latin America's biggest economy heads toward its worst year since at least 1992.
An effective prohibition on selling land to foreign individuals and companies has been in place since 2010 when Brazil's attorney general published a narrow interpretation of a 1971 law meant to defend the country's sovereignty. Katia Abreu, Brazil's first female agriculture minister and an outspoken defender of agribusiness, said Monday that the restriction limits investment and needs to be revisited.
"We need to find a middle ground so that investing in Brazilian land is permitted," Abreu said in an interview in her office in Brasilia. "We're working so this rule can once again be modified. Not so that it goes back to how it was in the past, but so it won't be totally prohibited."
Some authorities in Brazil are softening their stance on resource nationalism as slumping commodity prices, a corruption scandal surrounding state-run oil company Petroleo Brasileiro SA and its suppliers and credit tightening are pushing the economy toward a 1.2 percent contraction this year, according to a central bank survey of economists published Monday.
Abreu spoke a day after Energy Minister Eduardo Braga said he supports a bigger role for foreign drillers in Brazil's deepwater reserves.
Investment Flow
Allowing foreign firms to become operators in Brazil's so-called pre-salt oilfields would require congressional approval and is resisted by the party of President Dilma Rousseff.
Lawmakers from the Democratic Movement Party, the party of Abreu and Braga and part of Rousseff's ruling coalition, have led the charge to change legislation restricting foreign investment in both land and oil.
Just as representatives from states that depend on the oil industry advocate for less restrictions on pre-salt areas, ruralist congressmen have been vocal in their opposition to the ban on international firms buying land.
The 2010 decree limiting the purchase of land by foreign companies has been challenged on economic and legal grounds since it was published, including last month in the Supreme Court. Guidelines published in 2013 set a tight limit on the total area and percent of a municipality that can be purchased by a foreign firm without congressional approval.
Titles to land bought by foreigners before 2010 are legally protected, the press office for the Attorney General's Office said in an e-mailed response to questions. The office declined to comment on its participation in discussions to revise the rules.
Blanket Restriction
The rule is holding back Brazil's agricultural development by applying a blanket restriction to all foreign companies that was meant for sovereign wealth funds, according to Luiz Cornacchioni, the executive director of Brazil's agribusiness association. He said all agriculture areas stand to gain from easing the ban because foreign companies won't invest in land to which they have no legal rights.
"The agriculture ministry has every interest in attracting investments to Brazil, especially in this difficult time," Cornacchioni said by telephone from Sao Paulo. "This is important for us to continue growing agribusiness in a very appropriate way."
Wesley Batista, chief executive officer of Sao Paulo-based meatpacker JBS SA, said a bigger presence for foreign investors may lead to increased productivity levels.
"The market needs to be as open as possible to foreign investors," Batista said in an interview in Sao Paulo Tuesday. "Conceptually I think it's good. Brazil has a huge potential in agriculture."
Alternatives
Abreu said she's working with other ministries and Brazil's attorney general to find alternatives to the regulation and hopes to advance enough in discussions this year to begin offering investors the option of buying land. She specifically cited Brazil's huge potential in forestry to further develop the pulp and paper industries.
"All investors that are here collaborating with agribusiness are welcome," Abreu said. "We want all business done here to be good for Brazil and good for investors."
Before it's here, it's on the Bloomberg Terminal.
LEARN MORE