Yellen Says Justice Department Investigating 2012 FOMC Leak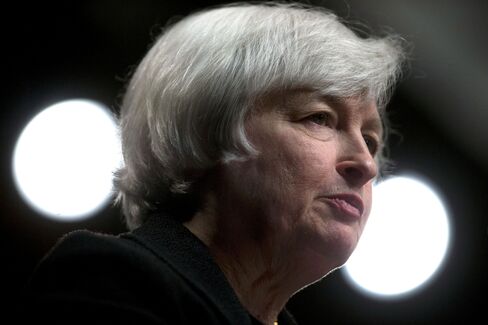 Federal Reserve Chair Janet Yellen said the U.S. Department of Justice has joined an investigation into a leak of confidential monetary-policy information in 2012.
"The Board's Inspector General and the Department of Justice are in the midst of an investigation into this matter," Yellen said in a letter to Representative Jeb Hensarling, chairman of the House Financial Service Committee, dated Monday in Washington.
"We are cooperating fully with them and look forward to the results of their investigation," she said.
Her letter comes amid increasing congressional pressure on the Fed to say more about how it conducts monetary policy and supervision of the nation's biggest banks.
Yellen also said that in June 2012 she met with an analyst from Medley Global Advisors, which published a report on deliberations of a September 2012 closed-door meeting of the Federal Open Market Committee, one day before minutes of the meeting were made public.
The Fed chair said she met with Medley analyst Regina Schleiger on June 11, 2012, "to hear her perspectives on international developments."
In addition, the Fed chief noted that she could not have known about the September events reported in the Medley letter and added that she "did not convey any confidential information."
Peter Carr, a Justice Department spokesman, declined to comment.
Medley Contact
Yellen said she would provide the names of Fed personnel who had contact with Medley.
"I have directed the staff to provide the remaining requested names to you with the understanding that the names will be kept confidential," Yellen wrote in the letter, which was also sent to Rep. Sean Duffy, chairman of the Subcommittee on Oversight and Investigations.
Hensarling and Duffy wrote to Yellen last month asking her to disclose the names of Fed officials who had contact with Medley so the House could conduct its own "transcribed interviews." They called an internal probe of the leak conducted by Fed General Counsel Scott Alvarez "inadequate."
As many as five lawmakers, including Democrats Senator Elizabeth Warren of Massachusetts and Representative Elijah Cummings of Maryland, have asked for more details about how confidential FOMC information was spilled.
Quantitative Easing
In its 2012 report, Medley described the FOMC's September, 2012 meeting, when the committee decided to buy $40 billion a month of mortgage securities in the third round of so-called quantitative easing.
The report, titled "Fed: December Bound," telegraphed the possibility that $45 billion of U.S. Treasury purchases would be added to the program, as well as the possible adoption of guidelines on levels of unemployment and inflation that officials would seek to achieve before raising interest rates from near zero.
The Medley report was published one day before minutes of the September meeting were released. On Oct. 4, 2012, the day the minutes were published, then-Chairman Ben S. Bernanke asked Alvarez and then-FOMC Secretary William English to investigate the leak, Bloomberg has reported.
Alvarez told House staff in a private meeting that his investigation showed "a small few" number of Fed officials had contact with Medley.
Before it's here, it's on the Bloomberg Terminal.
LEARN MORE