Twitter's Periscope Disabled Dozens of Mayweather Fight Streams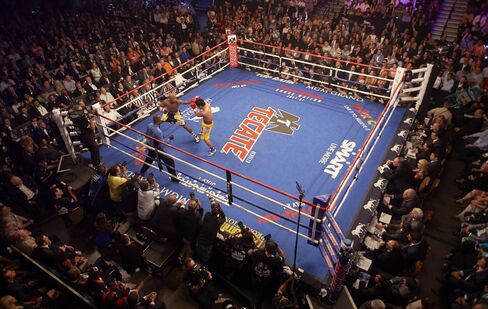 Twitter Inc. said its Periscope streaming business scrambled Saturday night to take down users' unauthorized live feeds of the championship boxing match between Floyd Mayweather and Manny Pacquiao.
"Members of the Periscope team were on staff Saturday night working to disable streams of the fight," Twitter said Monday in a statement. "We were able to respond to takedown requests within minutes."
The year's biggest fight cost $100 to see live on pay-per-view television from Time Warner Inc.'s HBO and CBS Corp.'s Showtime. Some fans used their phones to capture the video and stream it to Periscope and a competing service, Meerkat. Twitter executives including Chief Executive Officer Dick Costolo appeared to boast of Periscope's use, creating the impression they supported the copyright-violating streams.
Periscope was trying to stop the streams, according to Twitter. The company received 66 reports from the rights holders, and took action on 30, it said today in a statement. The others either had ended already or weren't available.
"Our content policy expressly prohibits streaming content that is protected by copyright. This kind of use constitutes a clear violation," San Francisco-based Twitter said. "We are working to ensure that there are robust tools in place that allow us to react expeditiously."
The use of Periscope on big televised events threatens to exacerbate longstanding friction between Hollywood and tech companies over piracy. In April, fans of HBO's "Game of Thrones" streamed the show on Periscope and Meerkat, giving people who weren't paying access to a grainy video rebroadcast.
Costolo Tweet
While Saturday's streams are unlikely to dent the millions made by HBO and Showtime, the event signals a potential problem if more people use live-streaming apps to watch pay TV.
Twitters investors and executives helped contribute to that perception with tweets on Saturday night. Costolo pronounced Periscope the fight's winner, while Twitter investor Chris Sacca, also proclaimed Periscope a winner "by a knockout."
Sacca clarified those remarks with subsequent posts on Sunday, lauding the use of Periscope for behind-the-scenes footage by Showtime, HBO and Yahoo Sports. He also said: "1) The Scope team shut down countless streams last night 2) Scope was awesome second screen/behind the scenes."
Before it's here, it's on the Bloomberg Terminal.
LEARN MORE