N.Y. Senate Majority Leader Charged in Father-Son Bribe Plot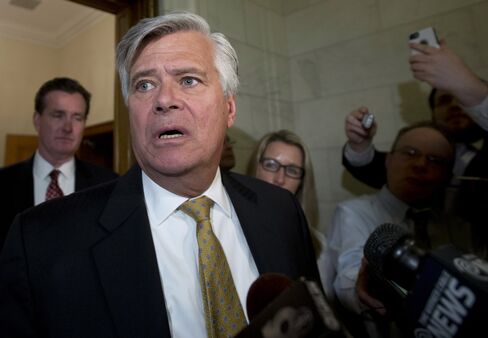 Within days of taking over as New York Senate majority leader in January, prosecutors say, Dean Skelos was basking in his newfound power, announcing to his son Adam: "I'm going to control everything."
"I'm going to control who gets on what committees, what legislation goes to the floor, what legislation comes through committees, the budget, everything," Skelos allegedly said on a phone call with Adam, not knowing the Federal Bureau of Investigation was listening.
Father and son, both of Rockville Centre in New York's Long Island, were arrested Monday and charged with running a scheme dating back to 2010 in which Skelos, 67, used his position first as a co-leader of the Senate and then as majority leader to obtain more than $200,000 in payments for his 32-year-old son in exchange for favorable treatment in the Legislature.
Real estate developers and an environmental technology company are among those who were expected to pay Adam Skelos, prosecutors said in announcing their case, which was built using phone taps, e-mails and two cooperating witnesses who recorded conversations for federal investigators.
Found 'Innocent'
While undeterred by the January arrest of New York State Assembly Speaker Sheldon Silver on corruption charges, Skelos, a Republican, and his son did take steps to conceal their actions, using code words and disposable "burner" phones to pursue their plans, prosecutors said in a six-count criminal complaint against the two.
Two charges facing both men, extortion and fraud, carry prison terms of as long 20 years, the U.S. said.
Skelos and his son were released without bail late Monday by U.S. Magistrate Judge Henry Pitman, who ordered both to surrender their passports and restrict their travel. Dean Skelos was also directed to turn over a hunting rifle.
Upon leaving the Lower Manhattan courthouse, Dean Skelos vowed he'd be cleared of wrongdoing.
"At the conclusion of this I know I will be found not only not guilty, but innocent," Skelos said. "I have the utmost respect for our judges and our juries, that's why I will be found innocent and my son will be."
Christopher Conniff, Adam Skelos's lawyer, said his client "is not guilty of these charges and looks forward to fighting them in the courtroom."
Following Silver
The arrest of Dean Skelos, just months after Silver, a Democrat, was forced to resign his post, promises to further roil the state Senate, where Republicans hold a slim majority.
Manhattan U.S. Attorney Preet Bharara has been outspoken in his criticism of the political culture in Albany, where the leaders of the two legislative chambers exert enormous control over budgets, contracts and regulations.
The lengthy complaint against Skelos describes a lawmaker who threw his support behind projects based "not on what was good for his constituents or good for New York, but rather on what was good for his son's bank account," Bharara said at a press conference Monday.
Prosecutors said that in late 2010, Skelos pressured a senior executive of a major real-estate development firm to arrange for his son to be paid hundreds of thousands of dollars. At the time, the firm, which isn't named in the court filing, was lobbying the senator on matters "crucial" to its business, prosecutors said. Glenwood Management is the real estate firm, and one of its employees is a cooperating witness in the case, said a person familiar with the matter.
'Held Hostage'
After paying Adam Skelos $20,000, the developer arranged for a related environmental technology company based in Arizona to begin paying him in exchange for Dean Skelos promoting legislation that would help both companies, the U.S. said.
In a July 2012 e-mail, the company's chief executive officer said there was "great potential for Adam Skelos to exploit his contacts statewide."
The U.S. said an employee who worked for an Arizona-based environmental technology company, which prosecutors didn't identify, had agreed to become a cooperating witness in the probe. AbTech Industries Inc. said through a spokeswoman that it's the firm described by the U.S. and is cooperating with federal authorities.
The U.S. agreed not to prosecute either witness in exchange for their cooperation.
While the environmental technology firm made the payments demanded by Adam Skelos, his father threatened he'd block a valuable contract with Nassau County unless it increased payments by 150 percent, the U.S. said, prompting the company to complain it was "being held hostage" by Skelos and his son.
Skelos used his legislative power over rent and other real-estate regulations to compel the developer to help his son, according to the complaint. Rent regulations, which were last renewed in 2011, expire on June 15 and are the focus of the state's legislative agenda.
If Skelos holds onto power, he'd continue to be at the center of those negotiations. Democratic leaders are asking that he step down.
'Commission' Work
The developer arranged for a $20,000 payment to Adam Skelos for "commission" work he didn't perform, prosecutors said. Payments from the environmental technology company more than doubled after Skelos promised he would "take care" of the firm if it took care of his son, according to prosecutors.
The case is U.S. v. Skelos, 15-mag-1492, U.S. District Court, Southern District of New York (Manhattan).
Before it's here, it's on the Bloomberg Terminal.
LEARN MORE