Gundlach Sees Puerto Rico Like Mortgages in 2008 Crisis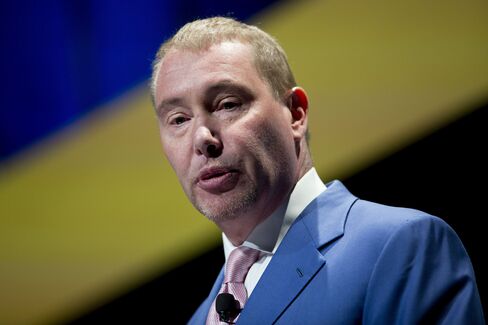 DoubleLine Capital's Jeffrey Gundlach sees the same investment potential in the municipal debt of Puerto Rico as he did in mortgage markets in 2008 -- so he's buying.
"Puerto Rico muni bonds have priced in a lot of problems," Gundlach said at the Sohn Investment Conference in New York on Monday, calling the securities "risky." Gundlach said he feels "similar to how I felt about credit in 2008," when he bought mortgage bonds from Wells Fargo & Co. When those fell as low as 65 cents on the dollar during the financial crisis, Gundlach "thought they were cheap enough to start buying," and they turned out to be a "fantastic investment."
Gundlach, whose Los Angeles-based firm oversees about $73 billion, is bullish on, and has already bought, Puerto Rico municipal debt and pension obligation bonds. His comparison to mortgage-backed securities from the 2008 financial crisis recalls the investments that helped build his reputation, as Gundlach was early to spot trouble in the U.S. property market and predicted the subprime mortgage crisis in 2007.
DoubleLine, which Gundlach co-founded in 2009 with Phil Barach after losing an internal struggle for leadership at TCW Group, has already doubled its holdings of general-obligation debt from the commonwealth to $45 million in the Income Solutions Fund at the end of March. The $2.28 billion Income Solution fund's investment was up from $20 million the prior month, and zero at year-end, according to data compiled by Bloomberg.
Distressed Levels
Puerto Rico bonds, most of which are tax-exempt nationwide, have traded at distressed levels for more than a year amid speculation the commonwealth and its agencies won't be able to repay $73 billion of debt. Municipal bonds from Puerto Rico lost 2.6 percent this year through May 1, the worst annual start since at least 2007, according to Standard & Poor's Dow Jones Indices.
Gundlach has company in betting on Puerto Rico. A group of 34 hedge funds with $4.5 billion of its debt has said the island has potential to turn around. Among its members is New York-based Stone Lion Capital Partners, said Russ Grote, a Washington-based spokesman for the group. Others include Brigade Capital Management, Centerbridge Capital Partners, Davidson Kempner Capital Management, Fir Tree Partners and Monarch Alternative Capital.
Investors can buy 8 percent notes maturing in 2035 at 79 cents on the dollar, "triple-tax free of about 11 percent" yield, and "the government is committed to repaying the debt in time," Gundlach said.
"I've started to buy them," he said. While so far it's "only a partial position," he said, "I think these bonds go lower, but I think you start buying them at 78."
Gundlach cited Puerto Rico's 6.2 percent pension obligation bonds due in 2039, which are trading at 37.6 cents on the dollar to yield about 17 percent, according to prices compiled by Bloomberg.
"They're priced for default yet are paying monthly," he said.
Before it's here, it's on the Bloomberg Terminal.
LEARN MORE