Xi Welcomes Taiwan Effort to Join China's Infrastructure Bank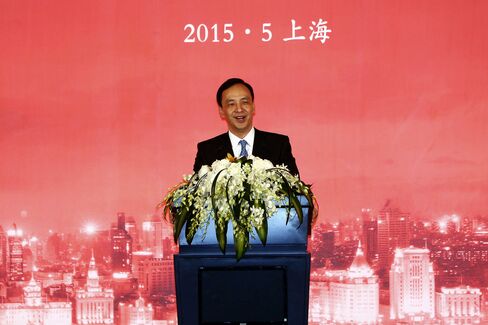 Chinese President Xi Jinping welcomed Taiwan's bid to join the Asian Infrastructure Investment Bank in his first meeting with the chairman of Taiwan's ruling party.
Kuomintang Chairman Eric Chu suggested that Taiwan could seek AIIB membership under the name of "Chinese Taipei," Huang Chao-shun, a member of Chu's delegation, told a press briefing Monday in Beijing. Xi said "appropriate arrangements" could be made for Taiwan to take part in regional economic efforts, China's official Xinhua News Agency said.
The two leaders -- meeting in their capacity as heads of the KMT and Chinese Communist Party -- also reaffirmed their commitment to the "one China" framework that has since 1992 underpinned efforts to strengthen ties across the Taiwan Strait. Under it, the Republic of China, as Taiwan is officially known, and the People's Republic of China have agreed there's only one China, even if they hold differing views about what that means.
Setting up the AIIB -- the first major multilateral development bank founded in a generation -- could solidify China's economic power in the world's fastest-growing region. The AIIB has won backing from U.S. allies including the U.K., Germany, Australia and South Korea, frustrating the Obama administration's campaign against the institution.
Last month, China ruled against allowing Taiwan as a founding member of the AIIB and said Taiwan's entry as a general member would depend on its finding an appropriate moniker within the organization. Taiwan has sometimes used "Chinese Taipei" to participate alongside the mainland in international settings, such as in the Olympics.
Symbolic Support
Xi said Monday the Communist Party would view Taiwan's participation "magnanimously," said KMT lawmaker Wu Yu-sheng, another member of Chu's delegation.
Monday's meeting gave Xi a chance to show symbolic support for Chu, the New Taipei mayor who in January replaced President Ma Ying-jeou as KMT chief. Chu is a potential contender to receive the KMT's nod to run for president next year, although he has said he doesn't want the job.
Taiwan's main opposition camp, the Democratic Progressive Party, supports independence from the mainland in its charter, a position the Communist Party finds unacceptable. The party last month nominated Chairwoman Tsai Ing-wen as its presidential nominee.
Taiwan and China have been governed separately since 1949, when Kuomintang leader Chiang Kai-shek fled the mainland during a war with Mao Zedong's Communist forces. Xi said Monday that the political differences between the two sides could be negotiated on "equal" footing under the one-China principle, Xinhua reported.
The first meeting between the parties was held in 2005 between then-KMT Chairman Lien Chan and then-Communist Party chief Hu Jintao. Xi met with Lien last year, after meeting with Honorary Kuomintang Chairman Wu Poh-hsiung in 2013.
— With assistance by Keith Zhai, and Adela Lin
Before it's here, it's on the Bloomberg Terminal.
LEARN MORE