American Pharoah Whipped 32 Times in Victory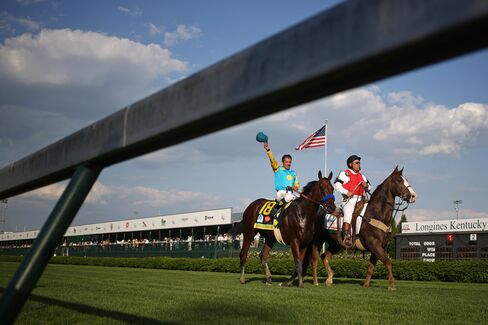 In his first two races this year, American Pharoah hadn't felt the sting of the jockey's whip a single time. In the Kentucky Derby, he was cracked some 32 times.
Those numbers, perhaps more than any other statistic, underscore how hard the big horse had to work to capture America's most-prestigious race on Saturday. This was not the walkover that some racing touts -- myself included -- had seen as a real possibility. Instead, Pharoah gutted out a grueling, one-length victory that appeared to take a lot out of him.
There were signs early that it wouldn't be easy.
The horse never really looked comfortable at any point in the race. When the field came off the first turn and entered the backstretch, jockey Victor Espinoza was already pecking at Pharoah to keep up. If you had given me the opportunity to cancel my bet on him right then, I just may have taken it. The front-runners were setting a dawdling pace that Pharoah normally would have matched without the slightest of effort.
Fast forward to the midpoint of the second turn, and Espinoza was already urging him vigorously to go after the two leaders. Seconds later, before they had even straightened out for the home stretch, Espinoza cocked the whip in his right hand and raised it up high.
This was the first time that the jockey had ever felt Pharoah struggling to pull away from his rivals. It clearly made him nervous (he said as much in the immediate aftermath of the race). He responded by flailing away time and time again as his colt slowly edged past Firing Line and Dortmund, the second- and third-place finishers.
Triple Crown?
Thirty-two cracks of the whip are a lot.
Beyond being aesthetically unpleasing to watch, so many blows can take a lot out of a horse, each one acting as a forceful prodding to try harder. And at some point, they stop being effective. Stronger-finishing jockeys, like Joel Rosario, who rode fourth-place finisher Frosted, rely much less on the stick to drive their horses to the finish line. Rosario hit Frosted only four times as he surged toward the leaders late in the Derby.
Sunday morning reports out of Kentucky indicated that the winner came out of the race looking a few pounds lighter. Perhaps he'll recover in time to capture the Preakness Stakes in two weeks. But would he then be up for winning again just three weeks later in the Belmont Stakes to become the first Triple Crown champion since 1978?
I doubt it.
As the tight Derby finish proved, this is a talented crop of three-year-old horses. And some of them -- perhaps Frosted, perhaps sixth-place finisher Materiality -- will bypass the Preakness and await Pharoah at Belmont Park.
There, going the marathon distance of 1 1/2 miles, the effects of those 32 cracks just may catch up to him.
(David Papadopoulos, managing editor for the Americas editing hub at Bloomberg News, has been following thoroughbred racing for more than two decades and was runner-up in 2008 Eclipse Award voting for feature writing on the sport.)
Before it's here, it's on the Bloomberg Terminal.
LEARN MORE