Merkel Says Germany Can't Cut Off Nazi Past, Cites Greece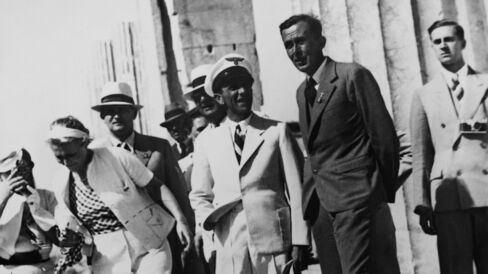 Germany has a duty to deal sensitively with the Nazi era, Chancellor Angela Merkel said, citing a debate in Greece about German responsibility for the country's occupation during World War II.
"One can't draw the line on history," Merkel said in her weekly podcast Saturday before the 70th anniversary of the war's end next week. "We see this in the discussion in Greece and also in other European countries. We Germans do have a special responsibility to deal in an aware, sensitive and knowledgeable way with what we perpetrated under Nazism."
While voicing understanding for the "long-lasting wounds" caused by the Nazis across Europe, the chancellor declined to address Greek demands for war reparations and said the task facing European governments now is to halt the rise in public debt.
Merkel's comments reflect her leading role in holding together the 19-nation euro and confronting Russia in the conflict over Ukraine. While there are "deep differences of opinion" with Russia, she said "it's important" for her to visit Moscow on May 10 to join President Vladimir Putin in honoring soldiers who died in World War II.
Merkel's government is ruling out further war reparations for Greece, saying the matter was closed by Europe's acceptance of the treaty that reunified East and West Germany in 1990 at the end of the Cold War.
Germany should nonetheless explore compensation for war crimes committed by German soldiers during World War II, German President Joachim Gauck, whose post is mostly ceremonial, was quoted as saying by Sueddeutsche Zeitung.
"It's the right thing for a historically aware country like ours to explore which possibilities of compensation there might be," the newspaper quoted him as saying in an interview in its Saturday edition.
Before it's here, it's on the Bloomberg Terminal.
LEARN MORE