Investors in Hot IPOs Are Overlooking Some Serious Risks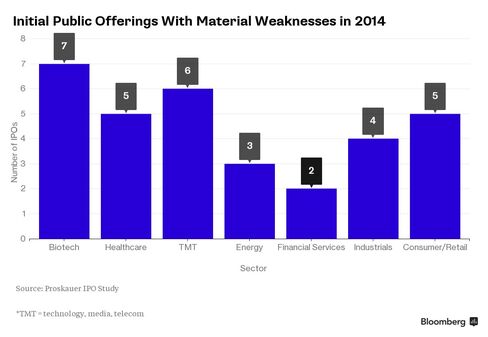 Would you buy stock in a company that doesn't regularly record its debits and credits? Or one that admits it lacks accounting skills? How about one that couldn't account for some of its expenses?
Apparently you would.
About 30 percent of companies that went public last year acknowledged they were at serious risk of incorrectly reporting their financial information, according to a study by New York law firm Proskauer Rose LLP. That's up from 17 percent of issuers in 2013, the study shows.
Yet investors weren't bothered. The 32 companies -- from GrubHub Inc. to GoPro Inc. -- that reported material weaknesses in their accounting systems last year have surged an average of 42 percent since their stock debuts. The lack of concern is part and parcel of the risk-taking mindset that has seen investors overlooking earnings and valuation metrics in the hottest initial public offering market since the dot-com bubble, said Lise Buyer, partner at Class V Group, an IPO advisory firm.
"Whenever you have a robust IPO market, it definitely signals that investors are willing to take on risk," she said.
The requirement to report material weaknesses goes back to passage of the Sarbanes-Oxley Act in 2002. Public companies must prove to auditors that they have the processes and people in place that can prevent or detect accounting errors. If they can't, they need to disclose as such.
GrubHub Seamless
"If the auditors are saying there's a material weakness, they're saying you're not set up like a public company should be yet," said Frank Lopez, co-head of global capital markets at Proskauer, which helped conduct the IPO study.
GrubHub, a food-delivery and pick-up website, disclosed in its prospectus that before merging with Seamless Holdings in 2013, the site had neglected to regularly document its review of journal entries. Since the Chicago-based company's debut last April, the stock has surged 58 percent, giving it a market value of $3.4 billion.
Zoe's Kitchen Inc., a Mediterranean restaurant chain, disclosed it didn't have adequate accounting resources before its IPO last year. Installed Building Products Inc., a provider of residential insulation, had to make seven financial adjustments. Zoe's market value has climbed to $592 million as of Thursday's close, from about $289 million based on the debut price. Both stocks have gained more than 80 percent since their IPOs.
GoPro, which makes video cameras used by adventure-seekers, said in its IPO prospectus that it lacked accounting skills, monitoring activities and review processes prior to 2013. Before GoPro's $491 million IPO in June, the company said in the filing that it's implementing better internal controls, although cautioned these efforts still may not be enough to prevent errors. GoPro's stock has more than doubled since the IPO, giving it a market value of $6.7 billion.
Over Lawyering
Often times, material weaknesses don't amount to much -- which is one reason some investors say they aren't deterred by such disclosures. While they can increase a company's risk profile, the warnings are often a result of advisers being too protective, said Eric Jackson, who runs a hedge fund in Naples, Florida.
"One reason it's rising is over-lawyering/CPA creep," said Jackson, president of Ironfire Capital. "Just throw everything in there along with the kitchen sink for the risk factors. 'What does it hurt?' is probably what the lawyers would say."
In some cases, though, material weaknesses can create serious issues. Among the worst-case scenarios happened to Groupon Inc.
In August 2011, two months after filing an IPO prospectus, the company abandoned its controversial accounting method and subsequently restated 2010 results because it had counted the total amount of its daily-deal sales as revenue, including fees paid to merchants. After going public in November 2011, Chicago-based Groupon reported a material weakness in its financial controls and had to reduce fourth-quarter revenue by $14.3 million.
Biotech Industry
The stock, which reached a high of $26.19 two weeks after the IPO, never recovered. The shares are currently trading at nearly one-quarter of their record: $6.92 each.
"We've had accounting frauds every five to 10 years, and people always seem to forget what's taken place and engage in investment activities without taking certain precautions," said Edward Ketz, an associate professor of accounting at Pennsylvania State University.
The biotechnology industry, filled with unprofitable companies with no revenue, accounted for seven of the 32 firms in the study. The remaining 25 companies came from industries including technology, consumer, energy and financial services.
Valuation Jump
The surge in initial fundings last year, which reached $88 billion, the most since 2000, was accompanied by a steep jump in valuations. The median debut price-to-sales ratio of 7.2 was the highest in seven years, according to data compiled by the University of Florida.
The trend continues this year as well. Etsy Inc., the decade-old online marketplace for handmade and vintage goods, went public after disclosing two material weaknesses, including that it wasn't able to account for some non-income tax-related expenses. While the company is working to remedy the issues, it said in the IPO prospectus that it's still vulnerable to errors.
Etsy's stock surged 88 percent on day one, although it has since declined. The company now has a market value of $2.5 billion.
The disclosures "only add fuel to the fire that some of these IPO names are lower quality and maybe the IPO market is getting frothy," said Michael Scanlon of John Hancock Asset Management.
Before it's here, it's on the Bloomberg Terminal.
LEARN MORE