China's Caribbean Plans Muddled by Delays in $3.5 Billion Resort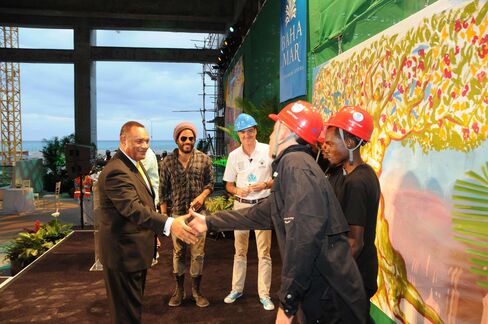 The $3.5 billion Baha Mar luxury resort in The Bahamas, long a dream of the Swiss-Bahamian Izmirlian family, was nearly a victim of the Great Recession when investors started pulling out in 2008. Then China came calling.
Thanks to a $2.4 billion loan from China's export-import bank, 4,000 imported workers and $150 million in equity for a new developer, the project was salvaged. For the Chinese, Baha Mar was a potential showpiece, a calling card as it set out to expand into the Americas with megaresorts and massive construction projects, including a planned $50 billion waterway in Nicaragua to rival the Panama Canal.
Now, repeated delays in the opening of Baha Mar have cast a pall over China's Caribbean plans and forced the resort to miss the peak winter travel season. Disputes between the builder, China Construction America Inc., and the Izmirlians have devolved into a public sparring match in The Bahamas, where officials are counting on the resort to lift an $8.4 billion economy that grew just 1 percent last year.
"From the inception of this project, there has been this concern that the developer was taking on too much at one time and should have used a phased approach," said K. Peter Turnquest, a member of parliament and chairman of SkyBahamas Airlines Ltd. "What people are wondering is if this developer now, considering the delays, will be able to bring this project to fruition in a reasonable amount of time."
$8.2 Billion
China Construction America didn't respond to phone calls and e-mails from Bloomberg seeking comment on the project.
According to the China Global Investment Tracker, compiled by AEI and the Heritage Foundation, Chinese companies have invested at least $8.2 billion in the Caribbean and Central America in the last decade. Recent agreements, not all of which are included in the database, include $36 million for a port in Antigua, financing for a biopesticide plant in Cuba and the planned canal in Nicaragua.
China's forays have been welcomed by the Caribbean's cash-strapped governments. While tourism is rebounding, economic growth has been uneven in a region where governments continue to struggle with some of the world's heaviest debt loads. The Caribbean has suffered through at least nine debt defaults since 2003, with Grenada's creditors agreeing to restructure $262 million in global bonds last month.
Hurricane Hit
"Going by debt to gross domestic product, 12 of the 20 most indebted places in the world are Caribbean states," said Eric LeCompte, executive director of Jubilee USA Network, which helped the Grenadian government negotiate the debt swap. "These are places where a hurricane can come through and wipe out three times the amount of a country's GDP in three hours."
Caribbean governments remain enthusiastic for Chinese investment, yet some of the marquee projects have not gone beyond the planning stage. China's $1.5 billion portion of a shipping and logistics hub in Jamaica has yet to submit an environmental impact assessment, while ground hasn't been broken on a $1 billion resort in Antigua & Barbuda announced last year.
Few could have foreseen the delays in The Bahamas five years ago when China Construction America's parent company, state-owned China State Construction Engineering Corp., made Baha Mar its largest investment to date in the Americas.
The four-hotel resort and golf complex, featuring the largest casino in the Caribbean and its own private island, was presented as the most-significant tourism project in the history of The Bahamas, a 700-island archipelago. The development, which will compete with the Atlantis resort near Nassau, promised to account for 12.8 percent of gross domestic product when fully opened, according to a 2013 study by Oxford Economics and commissioned by the developer.
'Transformative Project'
"Baha Mar will take the Bahamas to become a global tourism destination," said Robert Sands, senior vice president at Baha Mar Resorts, in a telephone interview in early March. "It is a transformative project, an investment that will pay off for all Bahamians."
Weeks later, however, the company was explaining why it would miss a March 27 soft opening that had been pushed back from late last year. The developer later said the resort will miss a May grand opening, which had already been pushed back twice.
"It has become clear that our contractor has not completed the work with an attention to detail consistent with Baha Mar standards of excellence," Baha Mar Ltd. said in a statement when it announced the planned March 27 opening would be delayed.
'Wholly Inappropriate'
China Construction America called the criticism "wholly inappropriate" and said the decision to delay was made by the developer, according to a statement published by the Nassau Guardian newspaper.
The developer has yet to say when the resort will fully open, which may mean the resort will wait until fall for an official grand opening. On its website, no rooms are available at Baha Mar's four hotels in June, and three of the four show no availability in July.
"Delays in openings are common with resorts of the scope, size and depth of Baha Mar," said Pauline Yoshihashi, a spokeswoman for Baha Mar Ltd. "Discussions are continuing with our contractor and we have not announced our grand opening date at this time."
The Bahamas government has praised the project for its potential impact on the economy and unemployment rate, which stood at 14.3 percent last year. The resort has said it will create 5,000 full-time jobs.
Wary of being too dependent on tourism, the government has sought to promote financial services, renewable energies and other sectors of the economy. In January it introduced a value-added tax and pushed to consolidate government operations to narrow a widening deficit.
Debt Burden
Yet the single-most important factor for the government's finances remains Baha Mar. If successful, the project could help the government begin to reduce a debt load that was forecast by the International Monetary Fund to reach 60 percent of gross domestic product last year.
In his mid-year budget presentation on Feb. 11, Prime Minister Perry Christie said the country "stands to benefit from what Baha Mar is going to mean for Bahamian tourism, for Bahamian employment, for Bahamian entrepreneurship, for direct foreign investment and for economic revitalization as a whole."
When it does open, Baha Mar will be closely monitored as its success or failure will affect how aggressively Chinese firms can proceed with their planned expansion into the rest of the Caribbean and Latin America.
"They went out of their comfort zone here by starting with a multi-billion dollar project in a small market," said Derek Scissors, who tracks China's investment in the region at the American Enterprise Institute. "This is a growth area for the Chinese and I can't image that there won't be a lot of opportunities for them. But you have to fix your flagship project before you go running on to the next thing."
Before it's here, it's on the Bloomberg Terminal.
LEARN MORE