U.S. Stocks Pare Monthly Gain Amid Selloff in Tech, Small-Caps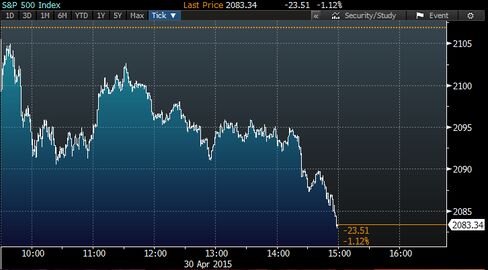 A selloff in technology and small-cap shares sent the Russell 2000 Index toward its worst week since October and pared a monthly gain for the Standard & Poor's 500 Index.
Apple Inc. lost 2.7 percent after reports it found a defect in its new watch. Yelp Inc. plunged 23 percent as its earnings and outlook disappointed investors, and Google Inc. fell 2.3 percent. The Nasdaq Biotechnology Index dropped 3.1 percent. Energy companies pared their biggest monthly gain in more than a year. LinkedIn Corp. dropped 23 percent in late trading as its second-quarter forecast missed estimates.
The S&P 500 declined 1 percent to 2,085.51 at 4 p.m. in New York, below the index's average price for the past 50 days. The Russell 2000 Index slumped 2.2 percent, its biggest drop in more than a month. The Dow Jones Industrial Average fell 195.01 points, or 1.1 percent, to 17,840.52, and the Nasdaq Composite Index lost 1.6 percent. About 8.5 billion shares changed hands on U.S. exchanges, 28 percent above the three-month average.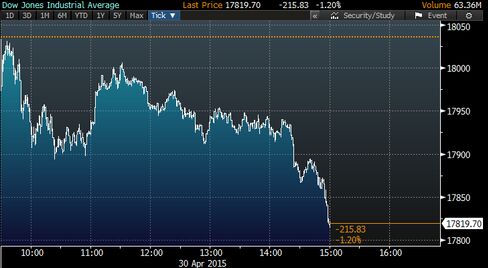 "The weakness is building on itself, and it's being led by sectors like biotech, which are bleeding over into the broader market," said Robert Pavlik, who helps oversee $9 billion as chief investment strategist at Boston Private Wealth. "There's pressure on Apple. After the big run we've been having in the overall market, we're getting a setback here. A pullback in a market seeing a lot of volatility is going to happen from time to time."
Data today showed that consumer spending in March posted the the biggest increase since November, while February's gain was larger than previously estimated. Incomes were little changed reflecting a drop in dividend payments. A separate report showed applications for U.S. jobless benefits declined last week to the lowest level in 15 years.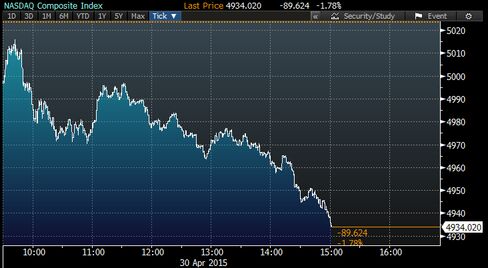 Monthly Gains
The S&P 500 has gained 0.9 percent in April after a 1.7 percent decline in March. The advance has been driven by a 6.6 percent rally among energy companies as oil prices had their best monthly increase since May 2009. The Nasdaq Composite Index climbed 0.8 percent this month, and briefly erased its dot-com-era decline after 15 years.
Small-cap stocks, meanwhile, have underperformed with the Russell 2000 Index down 2.6 percent in April. The gauge has declined in four of the last five days, dropping 4 percent over the stretch. Energy companies are the only one of the Russell's nine main groups with a monthly gain, up almost 12 percent. Consumer staples lagged the most, down 5.9 percent.
Gradually, investors are unwinding bets on smaller companies that they had favored on grounds that their domestic focus would insulate them from the effects of a rallying dollar. The Bloomberg Dollar Spot Index saw its biggest monthly retreat since 2011.
Technology Drops
Of the S&P 500 members that have already released earnings results this season, 74 percent beat profit projections and 47 percent topped sales estimates.
Analysts have tempered their predictions for an earnings slump, now projecting a first-quarter drop of 2.9 percent, compared with April 10 calls for a 5.6 percent decline.
All of the S&P 500's 10 main groups fell Thursday, led by technology and health-care companies. The Chicago Board Options Exchange Volatility Index climbed 8.7 percent to 14.55. The gauge, known as the VIX, is on track for its biggest weekly gain since January.
Apple slid 2.7 percent, down for a third consecutive day, after the company was said to have found a defect in a key component of its watch during production, forcing it to limit supply of the new device, the Wall Street Journal reported.
LinkedIn Tumbles
LinkedIn plunged 23 percent at 4:55 p.m. After the market closed, the company forecast revenue that missed analysts' estimates, citing the strong dollar and slower-than-expected growth.
Salesforce.com Inc. lost 2.5 percent, following a nearly 12 percent jump on Wednesday to an all-time high after a report that the company is working with financial advisers to help field takeover offers. Autodesk Inc. declined 4.6 percent after an analyst downgrade.
Yelp slumped 23 percent, its biggest drop since going public three years ago, after reporting first-quarter sales and profit that missed analysts' estimates. Its second-quarter sales outlook was also below estimates.
Health-care companies in the benchmark index retreated for the fourth time in five days. Varian Medical Systems Inc. and orthopedic device maker Zimmer Holdings Inc. lost at least 4.8 percent after lowering their profit outlooks.
Biogen Inc. and Celgene Corp. slipped more than 2.6 percent as the Nasdaq Biotech index dropped 3.3 percent amid a five-day losing streak, its longest in more than two years. Biogen is also the worst-performing stock in April among the S&P 500's health-care group, losing 11 percent.
Rockwell Automation
Harman International Industries Inc. fell 7 percent, its biggest slide in more than two years, after the maker of Harman Kardon and JBL audio equipment posted quarterly profit and sales that trailed analysts' estimates and cut its full-year earnings forecast.
Rockwell Automation Inc. advanced 5.6 percent, its biggest gain since 2012, after earnings were better than analysts' predictions.
Equinix Inc. rose 4.5 percent to a record after reporting earnings yesterday that beat analysts estimates. The information technology company also raised its 2015 revenue forecast.
Before it's here, it's on the Bloomberg Terminal.
LEARN MORE