News Corp., Pearson Face Russia Decision Under Putin Laws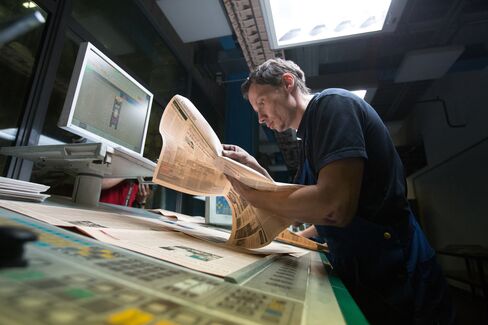 News Corp. and Pearson Plc, the publishers that control Russia's Vedomosti newspaper, must decide in the months ahead whether to adhere to new rules under President Vladimir Putin that restrict their ownership or exit the country.
Some of their peers have decided. Finnish media company Sanoma Oyj said Thursday it sold its stake in Vedomosti. On Wednesday, Time Warner Inc.'s CNN International went back on air in Russia free of advertising -- four months after it pulled the plug in protest.
Putin has tightened his grip over the media with a new law last October requiring media companies to reduce foreign ownership to 20 percent by 2016. From this year, advertising on pay-TV channels was also banned. U.S. broadcaster NBC Universal already announced it was shutting its Russian pay-TV business, citing the challenging economy.
Sanoma sold its 33 percent holding in the newspaper it published with News Corp.'s Wall Street Journal and Pearson's Financial Times to Ivania Ltd., a company backed by local media entrepreneur Demyan Kudryavtsev. Vedomosti is among the most-influential independent media outlets in Russia and frequently publishes editorials and opinions critical of the government.
Sanoma's sale had nothing to do with the Financial Times' ownership in Vedomosti and the FT is reviewing implications of the law limiting foreign ownership, spokeswoman Kristina Eriksson said in a statement Thursday. News Corp. is also analyzing the implications of the changes to Russian legislation, spokesman Jim Kennedy said in an e-mail.
Transferring Ownership?
To comply with the law, the FT and the Wall Street Journal could keep a 10 percent stake each and transfer the rest to the newspapers' top editorial staff, said Derk Sauer, a Dutch media entrepreneur who co-founded Vedomosti. The FT and the Wall Street Journal co-own the Vedomosti trademark and may keep getting revenue from Russia via a license agreement, he said.
The FT, WSJ and Sauer's Independent Media founded Vedomosti in 1999. Sanoma later acquired Independent Media.
Kudryavtsev has set up several Russian Internet companies and previously headed the Kommersant publishing house, a Vedomosti competitor. He quit in 2011 after Kommersant's billionaire owner Alisher Usmanov criticized the publication of photos of a ballot with explicit swearing toward Putin written on it. Usmanov said social norms shouldn't be violated and the media shouldn't be a platform for hooliganism.
In December, Sanoma agreed to sell its stake in the Russian publisher of Cosmopolitan and Esquire magazines to a venture of local entrepreneur Viktor Shkulev and U.S. media company Hearst Corp. The Russian government hasn't yet approved the transaction as the new co-owner will also be foreign.
Sanoma said it will book capital gain of about 8 million euros ($8.7 million) before currency translation adjustments for Thursday's sales once it closes.
Before it's here, it's on the Bloomberg Terminal.
LEARN MORE