Divergent: China's Splintering Growth
From Shanxi to Hainan, China's provincial growth rates are splintering as the world's second-largest economy slows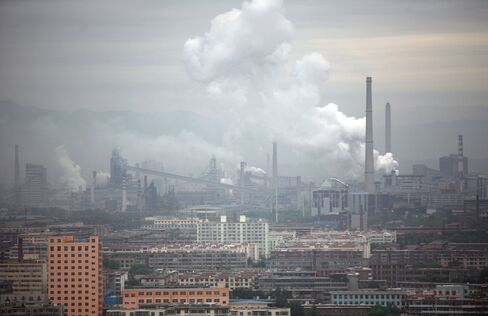 China's provincial growth rates are splintering as the world's second-largest economy slows.
The continent-sized economy saw its weakest areas grow at less than a fifth the pace of the fastest, as the national rate slowed to 7 percent from a year earlier in the first quarter.
Plagued by overcapacity and a property slowdown, the industrial northeastern Liaoning province expanded just 1.9 percent from a year earlier, according to a report by 21st Century Business Herald. Nearby Heilongjiang and Jilin are the fourth and fifth slowest growing regions as China's rust belt gets rustier.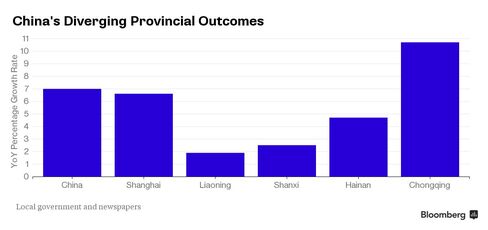 Northern Shanxi's dependence on coal weighted its growth to 2.5 percent, the second slowest. It's also one of the hardest hit by President Xi Jinping's anti-corruption campaign, with multiple government officials investigated.
The southern island of Hainan -- China's equivalent of Hawaii -- slowed to 4.7 percent growth in the first quarter from over 8 percent last year. Its pristine air and tropical climate failed to attract more home buyers, with property sales slumping.
It's not all glum: Chongqing, Guizhou and Tibet are the three regions still growing at a double-digit pace. Lower labor costs, cheaper land and central government support have drawn more manufacturers, helping these mid-west provinces continue their catch up to coastal counterparts.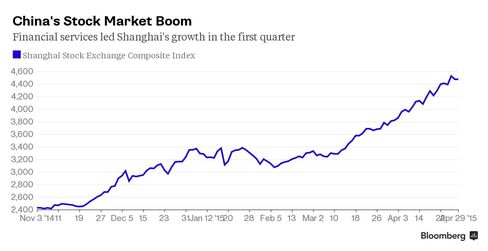 As college students and pensioners queue for hours to open share-trading accounts, the country's financial capital of Shanghai benefited from the stock market's boom. Financial services contributed 16.6 percent to the city's economy in the first quarter -- higher than the most recent numbers in New York City, Hong Kong and Singapore.
For more on the global economy, check out Benchmark:
Before it's here, it's on the Bloomberg Terminal.
LEARN MORE