Varoufakis, Spouse Attacked by Anarchists in Athens Restaurant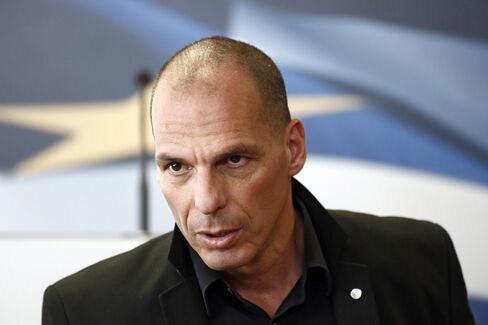 Greek Finance Minister Yanis Varoufakis said he and his wife, Danae, were attacked by a group of hooded anarchists while they dined in central Athens Tuesday night.
The attack, which Varoufakis said was unrelated to his recent political "degradation," occurred at around midnight. The assailants entered the courtyard of the restaurant in the neighborhood of Exarchia, making threats, throwing objects at the couple and demanding they leave. Neither was hurt, Varoufakis said in a detailed description of the incident in an e-mail sent from the Athens-based ministry on Wednesday.
"I don't believe their intention was to hurt us because if they did they could have, due to the force of numbers," Varoufakis said. "Before I could stop her and before the anarchists reached us, Danae rose and wrapped her arms around me, turning her back to them so that they would have to hit her before they got to me."
His wife's move appeared to deter the group, which departed from the restaurant and waited for the couple outside, said Varoufakis, a 54-year-old academic-turned-politician. When they attempted to leave, the verbal attacks resumed, he said. That's when he got off his motorbike and engaged the five or six of the angriest of the attackers in a conversation.
Tempers were calmed and the couple was able to leave on his motorbike, Varoufakis said. He said the incident reminded him of the time he lived in the neighborhood, which is known for being a hotbed of anarchist and student protests, as well as when a group took over a hall in which he was teaching.
"Now is not the time to expand on these thoughts," Varoufakis said. "The response to the anger of these people and the violence of their response can't be to retreat or to repress."
Similar Attacks
Greek government ministers have come under similar attacks from protesters since the Greek crisis began in 2009. Former Finance Minister George Papaconstantinou, who negotiated Greece's first bailout in 2010, has said he can't venture out in public for fear of attacks. In Dec. 2010, a New Democracy lawmaker Kostis Hatzidakis was attacked by striking protesters and led to safety after receiving cuts to the face.
Varoufakis was sidelined in an overhaul of the government's team negotiating with European creditors earlier this week after three months of talks with creditors failed to unlock aid and a meeting with his euro area counterparts in Latvia ended in acrimony. The currency bloc's finance ministers criticized their Greek colleague for being a time-waster, a gambler and an amateur at the meeting.
Varoufakis has courted controversy since being appointed finance minister in the government of Prime Minister Alexis Tsipras and remains popular at home, with 55 percent of respondents in an Alco survey published in Proto Thema newspaper Sunday expressing a positive view about him.
Before it's here, it's on the Bloomberg Terminal.
LEARN MORE