These Titans of Oil Are Experts at Making Bold Predictions*
*They just don't often come true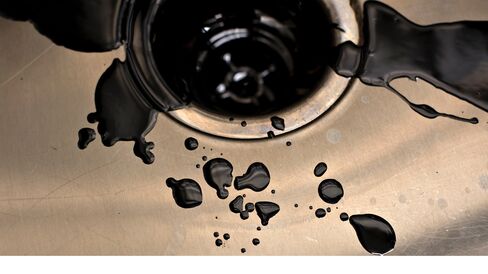 Nobody saw it coming.
Oil prices had been sliding, but on Oct. 1, the future still looked bright. For the next three months, oil would average $97 a barrel, according to a Bloomberg survey of 36 analysts. The first quarter of 2015 would be even better. The most pessimistic among them called for $91 a barrel.
Ha.
We all know what happened next. The free-fall in oil prices was just getting started. WTI crude, the U.S. benchmark, would tumble from $107 a barrel in June to below $45 in January. Humbling, perhaps, but it hasn't quieted the bold predictions coming from CEOs, analysts, and energy ministers.
Here's a look at some of the big calls made during the crash and how they've panned out.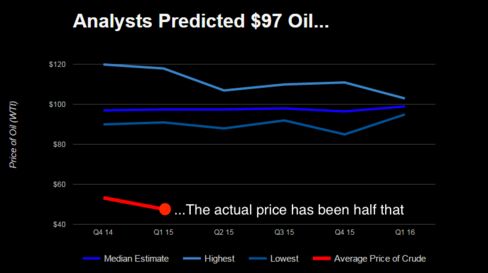 Don't Panic
"Let's not panic over the first little decline in oil prices,'' Whiting Petroleum CEO Jim Volker said on Sept. 22. He made more bold predictions:
"Saudi Arabia and the other OPEC members have already agreed to cut 500,000 barrels a day,'' he said, suggesting that OPEC would continue to support higher prices.

"I really don't think that there's anything to worry about with respect to the Bakken, or for that matter the Eagle Ford.''
"It always happens this time of the year... it's kind of a decline in the driving market after the summer holidays.''
Reality: Members of OPEC agreed to maintain their production targets instead of curbing output. The Williston Basin, home of the Bakken, and the Eagle Ford have both since lost more than half of their oil rigs. It wasn't just seasonal.
Nothing to Get Stress Tested About
"We have an $80 Brent case that is what we call our stress test," Hess CEO John B. Hess said in a Nov. 10 investor meeting. "We don't think $80 Brent is likely."
Reality: Since then, Brent crude has averaged $60 a barrel.
Morgan Stanley: 'More improvement ahead'
Morgan Stanley analysts, including Adam Longson, forecast on Nov. 10 that Brent would average $106 a barrel in the fourth quarter and $107 for all of 2014, saying "physical markets are strengthening with more improvement ahead, which should eventually lift prices.''
Reality: Nope.
Pickens the Futurist
"This has only been going on for 30 days. The world hasn't changed," T. Boone Pickens, chairman and CEO of BP Capital, said on Nov. 5. "OPEC has got to have a better price for oil than $80 a barrel." Pickens added that the price of oil wouldn't drop to $70.
Reality: Brent crude dropped below $70 less than a month later and hasn't yet returned. OPEC either won't, or can't, lift prices. Whether the world has changed remains subjective.
The Bears Wake Up in January
After the epic miscalculations of the fourth quarter, one might think at least a few overzealous bears would emerge. Think again. As of Jan. 1, the lowest of 30 estimates in a Bloomberg survey was for an average $50 oil for the first quarter. Not low enough. The actual price of WTI for the quarter: $48.57.
Still, January and February were full of second guesses, with some of the most pessimistic outlooks of the price crash. Some analysts may have shifted too far, and done it too late:
Oil as cheap as $20 a barrel may soon be on the way, and the oil crash could spell the "the end of OPEC," said Citigroup analyst Edward Morse on Feb. 9. Reality: There's been no $20 oil, or even $40 oil. OPEC hasn't yet dissolved.
Oil will probably continue to decline to as low as $30 a barrel, said Gary Cohn, president of Goldman Sachs Group Inc., on Jan. 26. "We're probably in the lower, longer view," said Cohn, himself a former oil trader. Reality: WTI finished that day around $45 a barrel and has rarely been lower since.
Oil could fall as low as $30 because supply surpluses won't disappear overnight, said Barclays analyst Miswin Mahesh on Feb 3. Reality: No $30 oil.
The Goldman Sachs Ruble Warning
In January, Goldman Sachs made a big call on the Russian Ruble, cutting its 2015 outlook on concerns over cheap oil. Goldman said the ruble would weaken to 70 rubles per dollar from 63.
Reality: Instead, the ruble has strengthened, to 51 per dollar.
Specificity Doesn't Imply Accuracy
Bank of America analyst Francisco Blanch forecast in February that WTI would fall to $32 by the end of first quarter, and Brent would be $31.
Reality: The oil crash was bad. But not that bad. Even at its lowest, WTI never dipped below $43, and Brent stayed above $46.
A Bad Call
Harold Hamm, the billionaire founder of Continental Resources, cashed out his company's oil-crash hedges in October—betting big on a rebound.
Reality: Oops
A Good Call
Renowned crude trader and commodities hedge fund manager Andy Hall said on Jan. 1 that oil would remain "under pressure" in 2015, but that $40 was close to an "absolute price floor" because it couldn't sell for long below the marginal cost of supply.
Reality: In the month before his call, crude had been in free-fall, declining about 30 percent to $53 a barrel. Oil has yet to fall below $40.
OPEC Sees a Boomerang
OPEC Secretary-General Abdalla El-Badri said on Jan. 26 week that prices would soon begin to rise and warned that oil could boomerang to $200 a barrel as the oil industry takes a cleaver to investment in new projects.
Reality: He may have correctly called the bottom to oil prices, but the $200 warning remains but a twinkle of hope in many an oil producer's eye.
$90 in May?
"You're going to see $85 to $90 oil" in the next 3-6 months, said John Catsimatidis, Red Apple Group Chairman, on Feb. 17.
Reality: His prediction has 1 to 4 months left to come true.
Shale Cuts
EOG Resources Inc., the biggest independent shale driller, shocked the energy world in February when it announced plans to slash spending and halt oil production growth. The company was among the first to predict that crude output would decline.
Reality: The U.S. EIA is now saying the amount of oil produced from shale will decline in May.
The Frackers Will Fall
Most fracking companies in the U.S. will be dead or sold by year-end because of slashed spending by oil companies, said Rob Fulks, pressure pumping marketing director at Weatherford International."We go by and we see yards are locked up and the doors are closed," Fulks said on April 22. There could be about 20 companies left, he said, down from 61 fracking service providers at the start of last year.
Reality: The number has already dropped to 41.
BP: The Three-Year Slump
"The fundamental supply and demand does remind me of 1986 a bit," said BP CEO Bob Dudley. Prices may stay below $60 for as long as three years, he said.
Reality: His prediction remains accurate, though prices have been creeping up to almost $60.
Solar Will Be the Next Shale
"Just as shale extraction technologies reconfigured oil and gas markets, no other technology is closer to transforming power markets in a similar fashion than distributed and utility-scale solar," Prajit Gosh, research director for Americas Power & Renewables Research at Wood Mackenzie, said on Feb 2, 2015.
Reality: It will take years or decades to prove Gosh right, or wrong.
Electric Cars Aren't an Oil Concern
Ryan Lance, CEO of ConocoPhillips, said on April 8 that it may take another 50 years for electric cars to have a material impact on oil demand.
Reality: Nearly every major carmaker as well as tech companies including Apple and Google are working on electric vehicles. Tesla and Chevy plan to release moderately priced cars with ranges of 200 miles or more per charge in the next few years.
Predicting the Future
As bold predictions often go, many of the selections above have been proven wrong or increasingly unlikely. Since the beginning of the crash, analysts have diverged in their range of opinions, a reflection of just how difficult it is to predict the oil future. Here's where Wall Street sees oil prices headed, as of April 29.
With assistance from Lynn Doan, Dawn Kopecki, Robert Tuttle, Bradley Olson, Mark Chediak, Moming Zhou, Jim Polson, Reg Gale, Dan Murtaugh, Rebecca Penty, Margot Habiby and Matthew Philips.
Read This Next:
Before it's here, it's on the Bloomberg Terminal.
LEARN MORE