Teva Struggle to Grow Explains Urgency of Face-Off With Mylan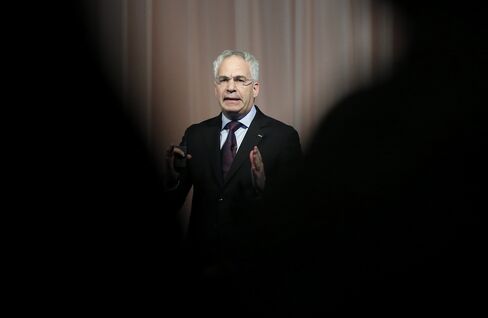 How desperately does Teva Pharmaceutical Industries Ltd. need an acquisition to help it grow?
Investors will get a clue today. The world's largest generics-drugmaker will probably report its third consecutive drop in quarterly revenue, according to analyst estimates compiled by Bloomberg. With competition looming this year for its $4.2 billion Copaxone drug, Petach Tikva, Israel-based Teva's $40.1 billion offer for Mylan NV, which has already been rebuffed, highlights the company's desire to expand.
"Teva needs the deal to continue to grow," Yair Shani, chief investment officer at IBI Mutual Funds, which manages about $3.85 billion of assets, including Teva shares, said by phone Tuesday from Tel Aviv. "A merger with Mylan would create synergies and open new markets for the company. It will lead Teva to be less reliant on Copaxone and have a bigger variety of products to offer."
Chief Executive Officer Erez Vigodman is seeking new avenues of growth as generic versions of the multiple sclerosis-treatment drug Copaxone are approved for sale and cheaper Indian manufacturers erode Teva's generics market share in the U.S. After focusing last year on reducing expenses and boosting cash flow, Vigodman is now looking for acquisitions to fill the hole that Copaxone will leave. Teva shares climbed to a record April 13 on speculation it would bid for Mylan.
Problematic Culture
Mylan's Chairman Robert Coury wrote in a letter to Vigodman on Monday that the bid "grossly undervalues" his company and would expose it to a "problematic culture," underscoring how difficult it will be to get the transaction done.
"Teva faces the looming loss of significant revenue from the end of exclusivity for the Copaxone franchise, and has seen years of consistent and significant underperformance, even while enjoying the benefits of Copaxone," Coury wrote.
Teva reiterated its offer for Mylan little more an hour after that letter was released. On Wednesday, Vigodman invited Coury to sit down and talk after what the Teva CEO called a series of distortions and mudslinging. Teva declined to comment for this article.
Teva will report a 3.8 percent drop in sales to $4.81 billion for the first quarter, according to the average of 15 analyst estimates compiled by Bloomberg. At the same time, cost cuts will deliver a boost in earnings per share to $1.251, from $1.22 in the same period last year, according to the average of 17 analyst estimates.
Teva is pursuing what would be the largest deal in the pharmaceutical industry this year with its Mylan bid. Even as Mylan's board objects to a sale, the company is taking its offer directly to Mylan's shareholders.
Potential Competition
Canonsburg, Pennsylvania-based Mylan is also grappling with potential competition to one of its most important sources of growth. Its flagship product, EpiPen, used to treat allergic reactions, may face generic competition from mid-2015, according to Liav Abraham, an analyst for Citigroup Inc. in New York.
For its part, Mylan is pursuing a separate unsolicited $32.7 billion bid for fellow drugmaker Perrigo Co., saying the transaction would be more complementary in terms of products and regional assets.
Teva rose 0.7 percent to 239.7 shekels at 10:37 a.m. in Tel Aviv. The stock has fallen about 10 percent since its record high on April 13, versus a 2.7 percent retreat for Israel's benchmark TA-25 Index.
Before it's here, it's on the Bloomberg Terminal.
LEARN MORE