Supreme Court Orders U.K. to Devise New Air Quality Plans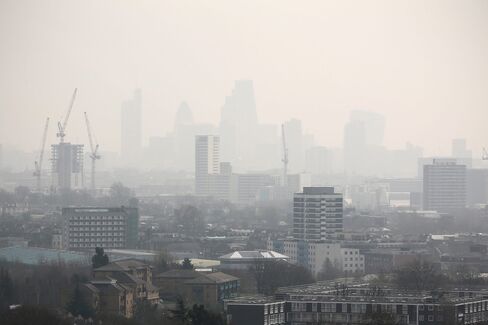 The U.K.'s next government must put tackling air pollution at the top of its agenda after the nation's Supreme Court backed environmental groups in ordering steps to comply with European Union rules by the end of this year.
After breaching EU limits for five years, the U.K. must devise a strategy to move more quickly on reducing motor vehicle exhaust gases such as nitrogen dioxide in cities from London to Birmingham and Leeds under the ruling handed down on Wednesday.
The decision means the government will have to devise a way of cutting the harmful pollutant nitrogen dioxide faster than current projections that will leave the capital's air over EU limits until at least 2030. Ed Miliband's opposition Labour Party scrambled to draw the issue into the general election campaign now underway, saying David Cameron's Conservative-led government is stumbling in its environmental efforts.
"This Supreme Court ruling is a damning indictment of the Tory-led government's total failure to tackle the U.K.'s air pollution which is causing tens of thousands of early deaths each year," said Maria Eagle, the Labour member of Parliament who speaks on the environment.
Successive Labour and the Conservative administrations have struggled to rein in emissions because diesel use in passenger cars has been rising. That's resulted in parts of London suffering with twice the EU limit of nitrogen dioxide, which irritates lungs, worsening asthma and bronchitis. Paris, Rome, Athens, Madrid, Brussels and Berlin are among the other EU cities that also fail to meet the standard.
Above Limits
Cities across Europe have struggled to bring down NO2 levels in part because EU efforts to fight climate change favored diesel fuel over gasoline. Diesel powered cars emit less carbon dioxide, or CO2, per mile traveled. Diesel, however emits more nitrogen dioxide than gasoline, leaving an air pollution problem.
The EU sets limits on nitrogen dioxide to a maximum of 40 micrograms per cubic meter of air. The concentration on Marylebone Road in central London was double that last year and is averaging 77 micrograms so far in 2015, according to King's College London, which monitors the capital's air quality.
The Supreme Court ruling may help the electric car industry by forcing the government to expand London's low-emission zones and incentives for vehicles that pollute the least, said Michael Liebreich, founder of Bloomberg New Energy Finance, a London-based research group.
Electric Cars
"This is a very significant ruling," Liebreich said. "It has to accelerate the shift to clean transportation in London and other cities around Europe. It could be just the jolt the electric vehicle industry is looking for."
Under EU rules, the U.K. was required to comply with NO2 limits by 2010. It could apply for a five-year extension by submitting air quality plans to show how it would achieve them by 2015.
Britain met its deadline for three of its 43 zones and applied for 24 extensions, but didn't do so for the remaining 16 zones because authorities judged the limits couldn't be met by 2015. That's prompted a five-year legal battle by environmental group ClientEarth.
The court came down on the side of the environmental group, stressing the need for "immediate action" and saying it unanimously decided "the government must submit new air quality plans to the European Commission" by Dec. 31.
Kills Thousands
"Air pollution kills tens of thousands of people in this country every year," ClientEarth lawyer Alan Andrews said in a statement on the organization's website. "This ruling will benefit everyone's health but particularly children, older people and those with existing health conditions like asthma and heart and lung conditions."
The government's Department for Environment, Food and Rural Affairs in July said that cities including London, Birmingham and Leeds aren't predicted to meet the limits until after 2030, with Manchester, Liverpool and Sheffield failing to comply until 2025.
During the past five years, "the prospects of early compliance have become worse," the Supreme Court said.
With the election campaign in full swing and Parliament dissolved, it was left to individual parties to respond to the decision.
Political Reaction
The Conservatives issued a statement noting "significant improvements" in air quality since 2010 and that the party does "recognize there is a need to do more." Liberal Democrats, who are the junior partner in Cameron's coalition government, acknowledged the need to move on the issue.
"Air pollution is a silent killer and this ruling is a timely reminder that it has to be taken more seriously," Ed Davey, the Liberal Democrat lawmaker who is energy and climate change secretary, said in an e-mailed statement. "More has to be done in London and across many other areas of the U.K. where there are now acute problems."
London Mayor Boris Johnson, whose office isn't up for election this year, is working on introducing hundreds of cleaner buses, setting age limits on taxis and establishing a 20 million-pound fund to tackle pollution hotspots. The mayor wasn't party to the legal proceedings.
"Some of the most ambitious and comprehensive measures in the world are being taken to help improve air quality in the capital and protect Londoners from pollutants," Johnson's office said in a statement. "The mayor recognises more needs to be done."
Before it's here, it's on the Bloomberg Terminal.
LEARN MORE