Biggest Wealth Fund Joins Bears in Bet Europe Bonds Fade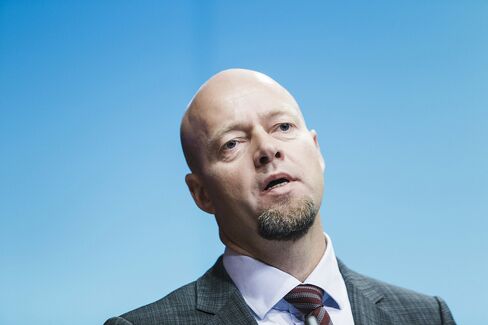 Norway's $900 billion sovereign wealth fund is joining Janus Capital's Bill Gross and Jeffrey Gundlach of Doubleline Capital in betting Europe's historic bond rally is coming to an end.
Yngve Slyngstad, the manager of the Oslo-based fund which on Wednesday reported a record investment return, said he is weighting a 2.5 trillion-krone ($328 billion) bond portfolio to shorter maturities, meaning it will outperform when rates rise.
"As long as interest rates are stable, or falling, we will be lagging the broader markets as we have a shorter maturity in the portfolio," Slyngstad said in an interview.
Bond yields surged across Europe on Wednesday as a growing number of investors are starting to question how long a stimulus-fueled rally can be sustained. Gross last week called 10-year German bonds the "short of a lifetime." Gundlach said he's considering making an amplified bet against German bonds.
Yields on 10-year German notes were little changed on Thursday at 0.28 percent, after jumping about 12 basis points yesterday.
Norway's oil fund gets its investment guidelines from the government. It missed the return on its fixed-income benchmark by 0.1 percentage point in the first quarter.
"We see no reason to extend duration in our portfolios," Slyngstad said. "Nothing has happened in the last three months that has changed that view."
ECB Rally
The wealth fund is reluctant to lock in record low yields over a longer period as it struggles to meet a 4 percent real return target. A stock-market surge fueled by European Central Bank liquidity pushed the fund's annualized return to above the target since its inception 1998, something that's unlikely to last, Slyngstad said.
"With the risk profile that we have, it's not likely that a return goal of 4 percent can be reached," he said at press conference. The fund's nominal annual return since it was established was 6 percent at the end of March.
Slyngstad said last month that the fund had sought to profit from quantitative easing by, among other things, buying Spanish bonds. Risks stemming from monetary policy have never been greater, as shifts from central bankers have become the single biggest driver when it comes to price movements, he said.
Fund Returns
The fund returned 5.3 percent in the first quarter, a record gain, as monetary easing drove up the value of its equity holdings. Its stock portfolio returned 7.5 percent, while bonds returned 1.6 percent. The Norwegian government mandates the oil fund to hold about 60 percent in stocks, 35 percent in debt and 5 percent in properties.
The investor boosted its investments in emerging market currencies to 12.9 percent of fixed-income from 12.8 percent. Investments in dollars, euros, pounds and yen were little changed at 78.6 percent of fixed-income holdings at the end of the period.
The biggest increases in government bond holdings in the first quarter were in U.S., French and Japanese bonds. The declines were in bonds from the Netherlands, Italy and Brazil, the fund said.
Before it's here, it's on the Bloomberg Terminal.
LEARN MORE