Greek Banks Get More Funds as ECB Weighs Collateral Discount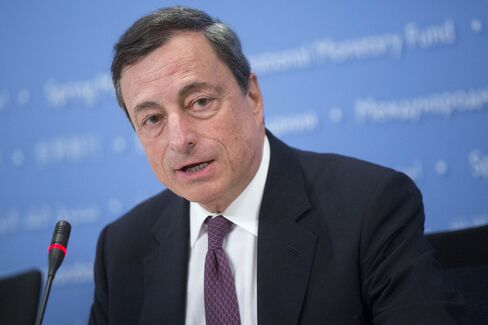 The European Central Bank raised the amount of emergency liquidity available to Greek banks, while signaling that access to such funds may become more difficult if bailout talks remain deadlocked.
The Governing Council lifted the cap on Emergency Liquidity Assistance by 1.4 billion euros ($1.5 billion) to 76.9 billion euros on Wednesday, people familiar with the decision said. That follows an increase of about 1.5 billion euros last week. An ECB spokesman declined to comment.
With no speedy deal between Greece and its creditors in sight, the ECB is studying measures to rein in ELA funding to limit risks. Staff have proposed increasing the discounts imposed on the securities banks post as collateral when borrowing, and the Governing Council may discuss the issue at its May 6 meeting.
"When the Eurosystem as a whole gives such support, we have our own collateral rules, we can set them ourselves," ECB Governing Council member Ardo Hansson told reporters in Tallinn, Estonia. "When it's ELA, then that's given by the national central bank, which has some latitude in this matter."
Intended to counter deposit outflows, Greece's ELA is provided by the country's central bank at its own risk, and against lower-quality collateral than the ECB accepts.
Household and business deposits fell 1.9 billion euros in March to 138.6 billion euros, the lowest level since January 2005, according to Bank of Greece data released Wednesday.
Weekly ELA injections reflect deposit outflows, as liquidity buffers are kept at about 3 billion euros to give the Bank of Greece and the ECB time to react in an emergency.
Deposit Outflows
March's deposits outflow brings the four-month drop to almost 26 billion euros, or about 16 percent of the total, amid growing alarm among savers over the country's place in the euro area. While the rate of decline has slowed, outflows probably continued into April, as reflected by successive ELA-ceiling increases.
The ECB says that ELA cash can't be used for state-financing, including t-bills, pointing out that this would be against European Union treaties.
ECB help to Greek banks "can't continue indefinitely," Governing Council member Christian Noyer said in an interview on Europe 1 radio on Tuesday. "What's needed are decisions on fundamental reforms."
Time is running out for Greek Prime Minister Alexis Tsipras as pensions and salaries loom at the end of the month and the International Monetary Fund awaits payment of almost 1 billion euros in the first half of May. After euro-area finance ministers failed to reach a deal at an April 24 meeting in Riga, Tsipras signaled that he may ask voters to approve an agreement that may not be in line with his campaign pledge to end austerity.
Market Reaction
Greek stocks and bonds have risen this week after the government sidelined Finance Minister Yanis Varoufakis, who had drawn criticism from euro-area partners for his handling of the bailout discussions. The Athens Stock Exchange Index was up 0.6 percent at 2:03 p.m., after rising 1.4 percent on Tuesday and
4.4 percent the day before.
In a televised interview on Monday night Tsipras said the government is doing all it can to show that Greece is willing to make the compromises.
"The negotiations are in the most crucial stage, the final stage," Tsipras said. "We are making great efforts to cover the distance to reach an agreement. As I said in Brussels, we have covered 70 percent of the distance and we ask them to walk the remaining 30 percent together."
Before it's here, it's on the Bloomberg Terminal.
LEARN MORE