Drug Testing, Now Without the Chimp
In the race for new drugs, researchers are moving past animal testing.
To test a potential cure for hepatitis B, Benitec Biopharma Ltd. could have infected as many as 50 chimpanzees with the liver disease, then given them the drug and watched what happened.
Instead, the Australian company turned to a U.K. startup for "livers on a chip" contaminated with the virus. CN Bio Innovations, spun out of the University of Oxford, will pump Benitec's medicine into its LiverChip, a complex piece of engineering not much bigger than a smartphone loaded with 600,000 human cells and designed to behave like a real organ.
The LiverChip and similar devices allow researchers to hone treatments without experimenting on animals in early stages, making drug development faster and cheaper, with fewer complications. The ultimate goal of scientists -- who have also replicated hearts and lungs -- is to link ersatz organs into a "human on a chip" to test medicines on the whole body.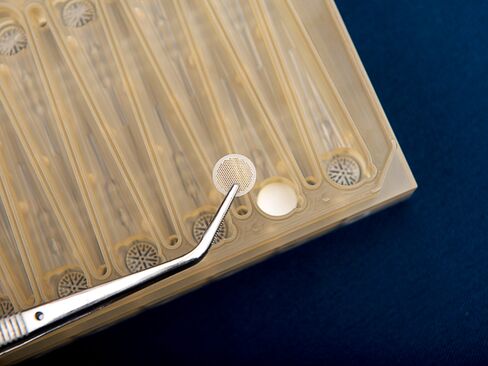 That would benefit drugmakers as the race for new remedies intensifies, and health systems and benefits managers fight back against high prices. As researchers tackle more complex diseases, working with animals is also becoming increasingly problematic, said Alan Wells, a University of Pittsburgh professor who worked on the liver on a chip.
"That has become a real Achilles heel for new drugs," Wells said.
There are treatments for hepatitis B, but no cure. Researchers working on a drug for the disease have limited options because it doesn't occur in most animals.
Compounds can be tested using mice engineered with human liver cells or chimps infected with human hepatitis B. But the mice and chimps are expensive, and laboratory apes often have been subjected to multiple diseases and medicines, making results dubious.
Drugmakers can expect to spend more than $10 million on development before a medicine reaches clinical trials, or testing on humans, said James Sapirstein, chief executive officer of ContraVir Pharmaceuticals Inc., which is also working on a cure for hepatitis B.
Benitec and CN Bio refused to say how much they expect to spend on drug-testing using LiverChips. But the savings compared to using chimps will be "significant," said David Suhy, head of research and development at Benitec.
"It's a very economical way for us to test the efficacy of our drugs," said Suhy, though the U.S. Food & Drug Administration will still require Benitec to use animals for safety screening before it can begin human trials.
While the data produced by the chips can supplement animal testing, it's not ready to replace it, Jeff Ventura, an FDA spokesman, said in an e-mail. "We look forward to the time when this technology -- 'organ on a chip' -- allows us to use it in place of other forms of testing," he said.
The European Medicines Agency didn't respond to requests for comment.
Pentagon Interest
Prices for using the LiverChip start at about $22,000, according to Emma Sceats, CN Bio's chief operating officer. The costs vary depending on the research program, and CN Bio may receive payments depending on how far a compound advances, or take an ownership position in the drug.
Animal testing typically begins at $50,000 for 28 days and 40 rodents and climb past $1 million for more complex safety experiments, said Thomas Hartung, director of the Center for Alternatives to Animal Testing at Johns Hopkins University. Experiments with animals are also time consuming, because they take months to schedule, Suhy said.
Building the chips tasks both engineering and biology, and can be "incredibly hard to do," said Lorna Ewart, a pharmacologist at AstraZeneca Plc, a U.K. drugmaker working on the technology.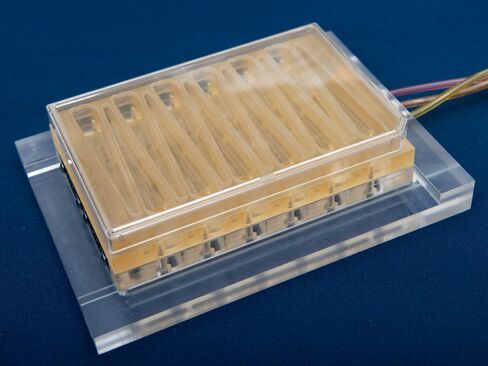 "The biggest challenge is showing it has an organ-level functionality," said Ewart.
The science has the attention of the U.S. Department of Defense, which is spending as much as $63 million funding research at Massachusetts Institute of Technology and Harvard University to deliver a "human on a chip" with 10 artificial organs working together.
Tying together multiple organs would allow researchers to determine whether a drug intended for one area causes side effects in another. For example, a human on a chip could indicate if an anti-inflammatory lung medicine harms the lining of the stomach, Ewart said.
CN Bio, which licensed its technology from MIT and has 12 employees near London, will use LiverChips with hepatitis B to test Benitec's therapies that "silence" harmful genes by targeting their DNA. Sanofi is among the drugmakers that have also evaluated the LiverChip.
The FDA is supportive of the technology, but animal tests are still needed to determine dosage levels and whether drugs cause birth defects and cancer, said David Jacobson-Kram, a former FDA toxicologist who works as a consultant. Rats, for example, are monitored for side effects during their two-year lifespans.
Artificial organs will "have to be able to answer those questions we use animals for today, and they'll have to be at least as good as animals," he said.
Before it's here, it's on the Bloomberg Terminal.
LEARN MORE