On Wednesday, the American Bar Association released what might be the best news law students have heard in years: The job market is not as miserable as it used to be. People who graduated from law school in 2014 are more likely to be in jobs that required passing the bar exam, or where having a law degree is an advantage, according to data from more than 200 ABA-accredited schools.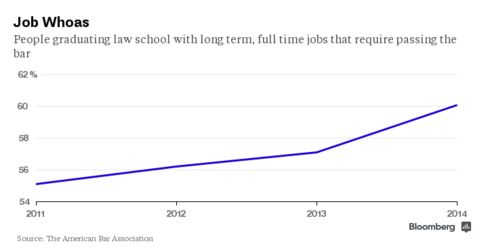 Sixty percent of law grads in the class of 2014 landed long-term, full-time positions they needed a passing Bar Exam grade for—generally regarded as the most coveted jobs available right out of law school. That figure is up from 55 percent 2011. The share of students who had full-time, long-term jobs where a J.D. degree was preferred went up to 11 percent, from 8 percent in 2011.
Meanwhile, the rate of unemployed grads seeking work ticked down to 9.8 percent, from 11.2 percent for the class of 2013. (If you remove the three ABA-accredited schools in Puerto Rico from the sample, the unemployment rate ticks even lower, to 9.5 percent.)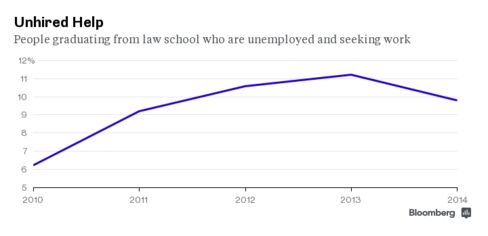 Part of the reason for this happy lawyer moment is plunging enrollment at law schools in recent years. Fewer people were competing for roughly the same number of jobs last year.
"A lot of the news appears to be good because the graduate size is shrinking, not necessarily because the job market is improving," says Derek Muller, a law professor at Pepperdine University who studies employment data. The class of 2014 had 6.5 percent fewer graduates than 2013's, when ABA-accredited schools recorded the largest-ever graduating class at around 47,000. If law schools keep class sizes down next semester—likely, given how few people have applied at this point—would-be lawyers will have continued reason for optimism.
"Assuming hiring remains stable, your odds are [even] better this year. They are going to be much better in the years to come," says Muller.
Before it's here, it's on the Bloomberg Terminal.
LEARN MORE