One Buffett Lieutenant Could Feel The Heat in Omaha This Weekend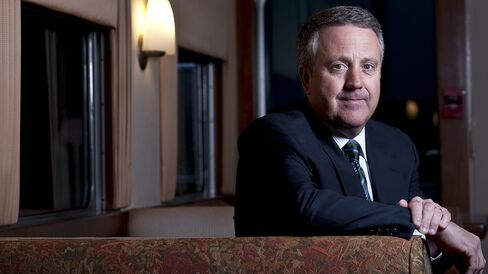 By Noah Buhayar
(Bloomberg) –- Every year, Warren Buffett feels the love at the annual shareholder meeting of his Berkshire Hathaway Inc.
This time one of his go-to guys, Matthew Rose, will almost certainly feel the heat. As thousands descend on Omaha, Nebraska, this weekend for the high-wattage veneration of all things Buffett, Rose is under pressure at Berkshire's biggest subsidiary, BNSF Railway.
BNSF is coming off a year marred by service delays, slow profit growth, lost market share and increased public scrutiny about exploding oil trains. Rose, 56, has some explaining to do.
"He's a big boy, and he needs to deliver," said David Rolfe, chief investment officer at Wedgewood Partners Inc., which counts Berkshire among its top holdings. "It's the big elephant in the room."
It's quite a comedown for Rose. Not long ago, some analysts and investors speculated he might be in the running to succeed Buffett atop Berkshire. Fewer say he has a shot now.
What went wrong? Buffett bet on the future of the U.S. economy when he announced a deal in 2009 to buy BNSF in his biggest takeover. While the railroad was a huge winner initially, things veered off course in 2014. Buffett, 84, went so far as to single out BNSF's service troubles in his shareholder letter this year, and his business partner, Charles Munger, hinted that Rose wasn't one of the two leading candidates to be the next CEO.
'Railroad Guy'
"If anyone was thinking Matt Rose had his hand on the ladder to succeed Buffett -- and he's no longer got his hand on the ladder -- they didn't understand Berkshire," said Jeff Matthews, an investor and author of three books about the company. "He's a railroad guy, and he's going to run the railroad."
Rose declined to be interviewed for this story. BNSF spokesman Michael Trevino said in a statement that the railroad's service began improving in the fourth quarter and has gotten better since.
Raised mostly in Kansas City, Missouri, Rose bootstrapped his way to the top of BNSF in 2000, at the age of 41. He was seen as a steady hand who had a broader perspective on transportation because of the time in the trucking industry, according to interviews with friends, former colleagues and business acquaintances.
Rose also proved deft at representing the railroad's interests in Washington and in the states where it operates. And he built a reputation as a details man -- not easy, given BNSF has about 48,000 employees, a track network spanning 32,500 miles (52,300 kilometers), and customers ranging from grain farmers to United Parcel Service Inc.
"He can still tell you if the UPS train is on time into Los Angeles today," said Dave Dealy, who worked at BNSF until 2007 when he was vice president of transportation.
Grain, Oil
So far, BNSF has thrown off more than $15 billion in dividends for Berkshire. And even with last year's service problems, the railroad posted $3.87 billion in profit, more than any other Berkshire business. Still, its 2 percent profit growth lagged behind the 18 percent gain at its main competitor in the U.S. West, Union Pacific Corp.
Snowstorms in 2013 and early last year crippled the railroad's northern route that was handling a surge in cargo from the shale oil boom in North Dakota. Farmers complained that they couldn't get grain to market amid a record harvest.
The Surface Transportation Board ordered BNSF and Canadian Pacific Railway Ltd. last June to file weekly updates on how they were addressing bottlenecks. In September, the railroads spoke at a hearing in North Dakota about the delays.
By then, Rose had become BNSF's executive chairman and handed the chief executive officer role to Carl Ice, the company's longtime operating chief. The move fueled speculation that Rose was being groomed for a bigger job at Berkshire.
Jain, Abel
Former colleagues say Rose has long had his sights beyond BNSF. Several said he would consider a cabinet-level in a U.S. presidential administration. By contrast, neither reinsurance dealmaker Ajit Jain nor energy executive Greg Abel -- two leading contenders to succeed Buffett -- are likely to leave Berkshire, according to Munger. Both, he said, are better business executives than Buffett in some ways.
For now, Rose is focused on fixing problems at BNSF, where troubles keep cropping up. In early March, a train hauling more than 100 cars of crude jumped the tracks in rural northwest Illinois and burst into flames. It was the second fiery derailment of an oil train on BNSF's network in 15 months -- and the latest in a series of accidents in the industry that have stirred concerns about the safety of moving crude by rail.
Three weeks later, Rose flew to Washington to meet with Senator Richard Durbin, Democrat of Illinois. Rose explained how a defective wheel caused the derailment. He then outlined steps he was taking to prevent another accident. BNSF later announced it would reduce the speed of oil trains below government requirements.
'Not Waiting'
"I like that kind of leadership," Durbin said later of their meeting. "He's not waiting for a federal mandate."
BNSF has pledged to spend a record $6 billion in 2015 on upgrades to its track and new equipment. That's more than a quarter of projected revenue this year, Buffett wrote in his February annual letter, an outlay that he said was almost "unheard of among railroads."
The investments "will soon lead to a system with greater capacity and much better service," Buffett wrote. "Improved profits should follow."
Rose can highlight the progress that BNSF has made at the annual meeting Saturday. The railroad benefited from "train speeds and productivity improving as new capacity came online," Trevino said. It has also regained some market share that it had lost to Union Pacific.
"The business that ought to be theirs will go back to being theirs," Tony Hatch, founder of ABH Consulting and a former Wall Street railroad analyst, said of BNSF. "They're solving it."
Before it's here, it's on the Bloomberg Terminal.
LEARN MORE