Analysts Cut Their Q2 GDP Forecasts Even More After Today's Ugly Report
More bad news clouds the outlook for Fed policy makers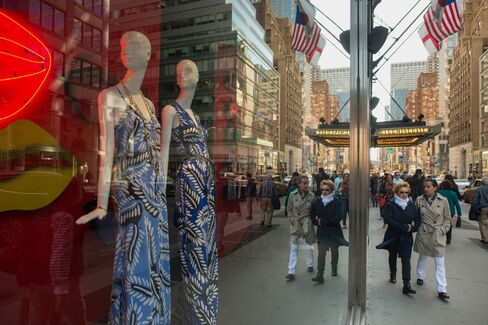 The U.S. economy had a disappointing start to 2015, data released Wednesday showed. Now, a solid second quarter is looking less and less likely as well, clouding the outlook for Federal Reserve policy makers hoping to raise interest rates later this year.
The U.S. Bureau of Economic Analysis reported that gross domestic product expanded at just a 0.2 percent seasonally-adjusted annualized rate in the first quarter. It was below the 1 percent median forecast of economists surveyed by Bloomberg.
After the release, Macroeconomic Advisers cut its GDP growth tracking estimate for the second quarter to 2 percent from 2.2 percent. Its initial forecast, published April 7, was 2.8 percent. In an email to clients, the forecasting firm cited "inventory investment, which was well above expectations, and which points to a larger decline in the second quarter."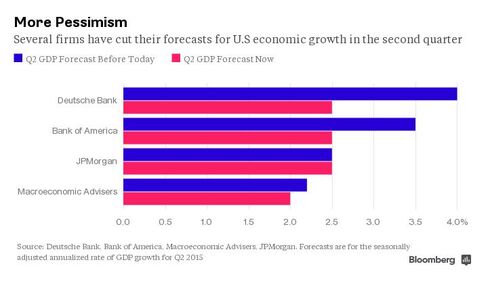 Inventories rose at a $110 billion pace in the first quarter, marking the biggest build since the third quarter of 2010.
"Given the fact the various regional purchasing manager surveys have been weak in April, it appears that producers will allow inventory positions to run off," Joseph LaVorgna, chief U.S. economist at Deutsche Bank Securities Inc. in New York, said in an email to clients. "This tells us that current-quarter growth is likely to run around 2.5 percent, not the 4 percent snap-back we had previously been anticipating."
Economists at Bank of America Corp. in New York reduced their growth estimate for this quarter to 2.5 percent from 3.5 percent following the GDP report. JPMorgan Chase & Co. economists left their estimate unchanged at 2.5 percent after cutting it from 3 percent following a weak March durable goods report on Friday.
For the Fed, the new numbers add to the uncertainty surrounding the outlook for the U.S. economy. Officials projected at their March meeting that the economy would expand between 2.1 percent and 3.1 percent this year. The central tendency of their forecasts, which excludes the top and bottom three of the 17 projections, called for growth between 2.3 percent and 2.7 percent.
Officials are gathered for a second day of meetings in Washington to discuss the economy and monetary policy and will release a statement at 2 p.m. on Wednesday. New forecasts, which are only published quarterly, won't be revealed until they meet again in June.
"The fact that the economy isn't growing as fast means that the pressures that are closing slack in the labor market and creating tighter capacity in the broader industrial sector may not be as strong," said Michael Hanson, a senior U.S. economist at Bank of America.
"They need to really reassess in June, when they have updated forecasts, just how close they are to satisfying their dual mandate objectives," Hanson said. "It could very well be the case that they are going to have to mark down their growth and inflation forecasts some, and then by Yellen's standards, they aren't hiking very soon."
Before it's here, it's on the Bloomberg Terminal.
LEARN MORE