America's Student Debt Pain Threatening a Corner of Bond Market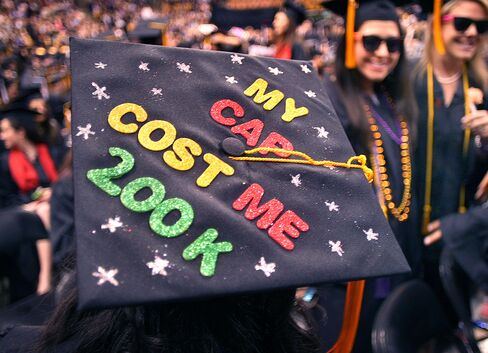 America's mounting student-debt problem is threatening to create trouble in part of a $170 billion bond market tied to government-guaranteed loans.
With borrowers increasingly struggling to repay their student loans, Moody's Investors Service is warning it may take investors longer than promised to get their money back. The credit grader said this month it may lower rankings on $3 billion of top-rated debt as investors face the threat of slowing principal payments or even receiving no interest.
The concern underscores the fallout from a record $1.2 trillion in U.S. student loans that's spreading to everything from the housing market and consumer spending to taxpayers. As a sluggish economic recovery forces borrowers to miss payments or tap relief programs, only 37 percent are current and reducing their balances, according to a Federal Reserve Bank of New York presentation this month.
"The recession really hit a large portion of the borrowers who have student loans hard," Barbara Lambotte, a Moody's analyst, said in a telephone interview. "Because of that, a significant portion of borrowers have used" various options to avoid paying down their debt.
Investor Retreat
Thanks to the government's guarantees of 97 percent of loan balances, Moody's and Fitch Ratings see little risk that investors won't eventually get their money back even if missed payments accelerate. But the threat of downgrades and slower principal payments fueled an investor retreat that's driving yields higher on some top-rated securities.
Yields over benchmark rates widened this month to about 0.5 percentage point from the typical level of about 0.35 percentage point for some AAA rated securities, according to Scott Austin, the co-head of securitized products at TCW Group Inc. The firm is avoiding certain parts of the market even as it sees others being undervalued because of the risks.
"This is not an issue of getting the money back, it's an issue of the timing," said Austin, whose Los Angeles-based firm oversees about $180 billion. "There are market participants that have or will sell these securities because they might get downgraded or will get downgraded."
Subprime Comparisons
As students and their parents take out loans to fund the increasing cost for college and graduate school, debt balances have tripled in the past decade, drawing comparisons to the mortgage bubble of the 2000s. Sarah Bloom Raskin, the U.S. Treasury's No. 2 official, said in a speech in November that high default rates and delinquencies threatened the ability of Americans to invest in homes and businesses and could strain the Treasury, which finances about $100 billion of loans each year.
Until recently, though, the effect on the bond market had raised few concerns. Unlike the mortgage bubble, the student-lending boom hasn't been fueled by Wall Street's penchant for bundling loans into securities.
After Congress passed legislation in 2010 that stopped government guarantees in favor of direct federal lending, issuance of bonds backed by the debt collapsed. Outstanding securities have declined to $170 billion from almost $200 billion in 2008, according to Securities Industry & Financial Markets Association data.
Deferring Payments
Bond investor risks are being stoked by a slow recovery in the job market for recent graduates, which has slowed repayment rates below levels initially expected, according to Fitch, which said in a statement last week that it also saw risks in the market it will address on a bond-by-bond basis.
Five years after leaving school, borrowers in low-income communities have made "practically no progress" in paying down their loan balances, according to an April 16 presentation by New York Fed economists. Their aggregate balance is still 97 percent of the amount they left college with, its data show.
Borrowers are putting off payments by getting forbearances as they struggle or are tapping government programs that let them make smaller payments over a longer period before the debt is eventually forgiven. A push by the Obama administration has expanded use of those programs. Some graduates unable to find jobs are also going back to school, which allows them to defer repayment.
For federally guaranteed loans that are backing bonds, the amount of balances in deferment or forbearance has climbed to 35 percent from a range of 20 percent to 25 percent before the financial crisis, according to data from Nomura Holdings Inc.
Issuer Support
If bonds aren't paid off at maturity and end up in default, higher-ranking investors in the deal can adjust the cash flows, effectively cutting off payments to junior investors, according to a report by Bank of America Merrill Lynch analysts. Some of the senior investors also would be repaid slower.
Issuers that regularly tap the market for asset-backed securities may "come to the support" of the deals by buying out the underlying loans, Deutsche Bank AG analysts Elen Callahan and Kayvan Darouian wrote in a April 15 report. In January, Navient Corp., the loan servicer once part of the company known as Sallie Mae, amended the documents of 17 deals to boost the amount of loans it could repurchase, they said.
Moody's Focus
Moody's isn't focusing on student-loan bonds maturing more than five years from now because changes in the economy or U.S. policy could alter payment patterns, Lambotte said.
While income-based repayment programs are "a focus of the current administration, this may not be the case going forward," the Deutsche Bank analysts said. There's also emerging options to refinance out of federal loans and into private loans, and the potential for borrowers to tap their home equity to repay the debt as housing recovers, they said.
Tom Capasse, a principal at Waterfall Asset Management, who helped found Merrill Lynch's ABS business in the 1980s, said that Moody's was "spot on" in seeing a potential risk of defaults in deals from more borrowers' accessing payment relief. That can cap what the hedge-fund manager is willing to pay for junior-ranking interests in transactions that could see their payments to investors stopped at least temporarily.
"It makes our bids less competitive," said Capasse, whose firm oversees about $4.3 billion.
Before it's here, it's on the Bloomberg Terminal.
LEARN MORE