Why Buffett's Capitalist Woodstock Won't Endure Like Garcia Jams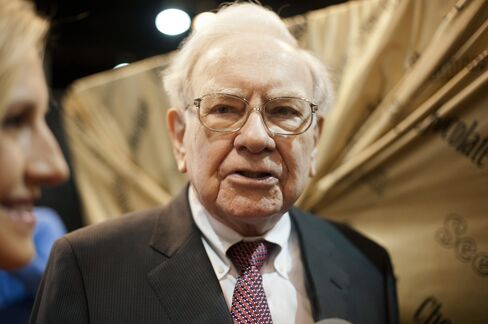 Warren Buffett is fond of calling Berkshire Hathaway Inc.'s annual meeting the "Woodstock for Capitalists." But he's not as mellow as the Grateful Dead when it comes to dealing with fans who want a souvenir recording.
Tens of thousands of people will gather at an Omaha, Nebraska, arena Saturday to listen to the billionaire and his sidekick, Charles Munger, entertain the crowd with their thoughts about business. As in years past, recording will be strictly off limits.
The prohibition makes the session a must-attend event for investors and financial journalists, who pay jacked-up airfares and hotel rates to be there when two of the business world's rock stars open their mouths. It also highlights the leeway corporations have in organizing their annual meetings with shareholders.
"There is no legal obligation to make a transcript available, or to allow recording of an event that is otherwise public," said Joseph Grundfest, a professor at Stanford Law School and a former member of the U.S. Securities and Exchange Commission. Nor does Buffett, 84, have to be "interesting, avuncular, entertaining, insightful or oracular."
In general, public companies are required by their corporate charters and state laws to hold meetings with shareholders once a year. The location and agendas can vary widely, as can decisions about whether the public or members of the press can attend.
While official business may be limited to electing directors and other shareholder votes, the events are an opportunity for executives to communicate with investors. A look of some of the largest U.S. companies shows how the annual gatherings take many forms.
Celebrities, Lawyers
Microsoft Corp., Wal-Mart Stores Inc. and Exxon Mobil Corp. broadcast their meetings over the Internet and archive the recordings for shareholders and the public. Coca-Cola Co.'s annual meetings in Atlanta are also webcast and have featured cameos in recent years by Buffett, the company's largest shareholder, and pop music star Will.i.am.
American Airlines Group Inc. will hold its annual meeting at the New York offices of the Latham & Watkins LLP law firm, a holdover practice from merger partner US Airways.
Boxing Match
Huge gatherings that draw global media can be a magnet for critics. Activists took out advertisements in Omaha in 2007 urging Berkshire to sell its stake in PetroChina Co. The oil company's parent had links to Sudan, where the government was accused of supporting genocide.
To call attention to income inequality, protesters outside the Bank of America Corp. meeting in 2012 staged a mock boxing match between a man portraying Chief Executive Officer Brian Moynihan and a representative of the 99 percent.
MetLife Inc. is among companies that bar press and other members of the public, saying that the meetings are only for shareholders. People who want to attend the Berkshire meeting and don't own a share can purchase a pass on EBay for $5.
The Grateful Dead was one of many iconic acts that performed at the 1969 Woodstock rock festival in New York State. During its decades of touring, the group built one of the most loyal followings in music. Fans made recordings of their shows from designated sections and often swapped tapes afterward.
No Tickets
Jerry Garcia, the band's lead guitarist who was known for his improvisational jams, died in 1995. Surviving members are planning to reunite in Chicago this year to celebrate the group's 50th anniversary. Fans have only about a 10 percent chance that their requests for mail-order tickets will be honored, after a deluge of requests, the Dead said in February.
While Berkshire is also expecting a packed house this year to celebrate Buffett's 50th year running the company, the rules are the rules. Recording is "strictly prohibited," and the ban applies to mobile phones, the company said in its visitor's guide. "Offenders are subject to equipment confiscation, meeting credential revocation, and dismissal from the meeting."
It's not just Buffett's legions of fans who are bummed out by the restriction. It also creates a challenge for the dozens of journalists in the crowd, who would typically use hand-held digital recorders to verify quotes at such a large and important event.
Grundfest's advice for them: Take a steno class.
Before it's here, it's on the Bloomberg Terminal.
LEARN MORE