Uber Germany Said to Swap Discount Rides for Licensed Offer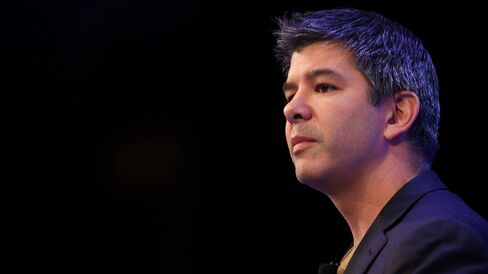 Uber Technologies Inc. is planning to end its controversial UberPop discount service in Germany, abandoning a model that has undercut limousine and taxi-hiring businesses in the country, according to people familiar with the matter.
The offer, which lets anyone apply to become a driver and is available in five cities including Berlin and Frankfurt, is set to be replaced in the coming weeks by a service that employs drivers with private-hire licenses, said the people, who asked not to be identified because the plan isn't public. The start date of UberX depends on how quickly the company can get drivers certified with local authorities, one of the people said.
The move is a rare reversal in strategy for Uber and marks the most drastic change to its products in Europe to date. It follows a German court ban on offering commercial transportation services without a license. The San Francisco-based company's $40 billion valuation -- based on a funding round late last year -- rests at least partially on expectations that the service will succeed in markets from South Korea to Switzerland.
Uber has held briefing sessions for drivers on the impending changes, said one of the people. Under the UberX model, already part of the company's offering in the U.K. and France, drivers will receive a cut of the fare, compared with about 5 euros ($5.50) that UberPop drivers in Berlin can get for each trip regardless of distance, said one of the people. Uber will assume the cost for drivers to get the license needed for carrying passengers legally, the person said.
German Ruling
Thomas Meister, a spokesman for Uber in Germany, said the company is working on a service that complies with local regulations. He declined to elaborate.
Under Chief Executive Officer Travis Kalanick, Uber has expanded rapidly outside the U.S, operating in 67 cities in Europe, according to its website. However, the company has come under pressure as authorities around the world insist that transportation services must be regulated.
In Germany, a court ruled last month that it's anti-competitive for Uber to route requests for rides via its UberPop app. Uber has since extended its 35 euro cent-per-kilometer fare to all five German cities, effectively turning UberPop into one of the nation's many share-a-ride services. Uber needs to subsidize UberPop drivers to get them on the road at all.
The company says it has about 50,000 active users in Germany. UberPop is also available in Hamburg, Dusseldorf and Munich.
To make sure it can offer various products in the longer term, Uber is seeking to convince regulators to lower the hurdles for people and companies wanting to make a business out of ferrying people to their destination.
Before it's here, it's on the Bloomberg Terminal.
LEARN MORE