Negative Rates Are Turning This Corner of the Credit Market Crazy
Negative rates mean zero percent interest for investors in securitized debt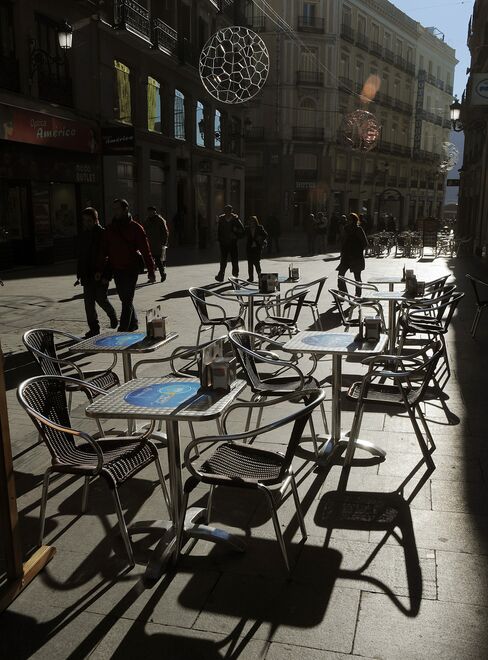 Negative interest rates are an odd fish in the world of finance given that they basically wreak havoc on a central tenet of investing; that investors will be compensated in some way for, you know, investing in things.
Bloomberg's Alastair Marsh reports today on POPYM 2007-2 A3G, a 2007 securitization deal that bundled together loans made to small businesses in Spain. Trustees for the bonds appear to be halting coupon payments to the debt's investors after a benchmark interest rate to which the deal is tied turned negative in recent days.
That benchmark rate is three-month Euribor, and you can see its rather stunning descent in the chart below: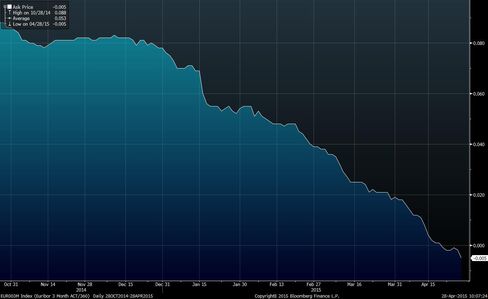 While the prospect of receiving a big fat nothing in return for holding bundled business loans will no doubt be less than inspiring for investors - it's important to remember that things could always be worse. In theory, negative rates could result in investors effectively paying trustees for the privilege of holding onto their securitized bonds (a development that would no doubt create an inconvenient jumble of cash flows since trustees essentially exist to serve the interest of the bondholders and would most likely have to pay the money back).
While this particular Spanish securitization, put together by Banco Popular, does have a legal clause that stops coupons from turning negative, it's highly unlikely that all banks which created such bond deals would have anticipated an era of negative rates. In other words, it's not entirely clear how such securitized debt will react to a sub-zero world.
For what it's worth, Danish mortgage lender Nykredit said last month that it would fix coupon rates on its own floating-rate bonds to zero if benchmark interest rates turn negative.
Before it's here, it's on the Bloomberg Terminal.
LEARN MORE