Merck Measles Vaccine Sales Surged as California Outbreak Grew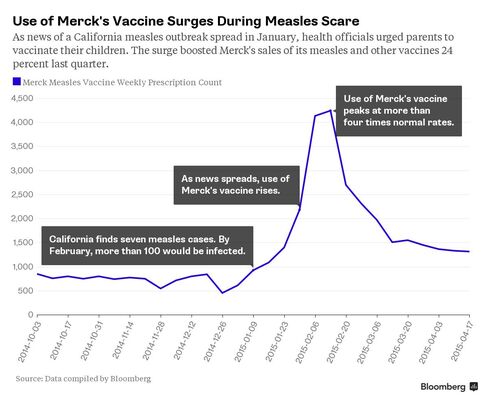 There's nothing like an outbreak to get parents to vaccinate -- or to help vaccine sales.
As a measles outbreak that started in California grew from seven cases on Jan. 7 to more than 100 a month later, sales of Merck & Co.'s measles vaccine surged as well.
From the first week the measles outbreak was in the news to a month later when cases neared their peak, the use of Merck's M-M-R II vaccine more than quadruped to more than 4,000 a week, according to data compiled by Bloomberg.
Merck reported first-quarter results today showing that sales of the measles vaccine and two other inoculations grew 24 percent from the same time a year before, to $348 million. The extra sales helped the Kenilworth, New Jersey, drugmaker beat analysts' profit estimates.
"We certainly saw an increase in sales beginning in the first month of the quarter," Adam Schechter, Merck's head of global human health, said in an interview. "That was based upon a lot of attention in the media around certain measles outbreaks in the U.S."
The outbreak prompted a national discussion about vaccination, with public health officials urging parents to get their children inoculated, and criticism of parents who chose not to, sometimes over fear of a link to autism. Doctors have debunked any such link.
There have been 166 cases of measles in the U.S. this year, according to the Centers for Disease Control and Prevention. While once endemic, a decades-long vaccination campaign largely eliminated the virus from the U.S. Most cases are now brought in from abroad, and people who haven't been vaccinated are vulnerable.
The measles virus is one of the most contagious pathogens in the world. Measles starts with a fever followed by a rash and can cause more serious complications, such as pneumonia, ear infections and diarrhea, in about three of 10 patients, according to the CDC. In rare cases it can also lead to swelling of the brain and death.
The CDC recommends children receive two doses of the measles, mumps and rubella vaccine -- one at 12 to 15 months of age, and a second usually before the start of kindergarten.
Before it's here, it's on the Bloomberg Terminal.
LEARN MORE