Five Things We Won't Know About the NFL in 2017
The advantages of not being not-profit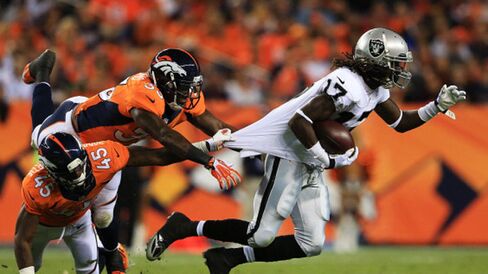 The National Football League said on Tuesday that it will no longer claim tax-exempt status. That means higher taxes -- an estimated $109 million over the next decade. But it also means the league will file one more public form with the IRS early in 2016 and then stop.
The league's most recent public disclosure covers the year that ended on March 31, 2014. It tells us a few things that we won't know in the future -- once the league can shield its financial information from public view.
Roger Goodell's Compensation
The commissioner received $34.9 million during the year, mostly in bonuses, plus $75,000 in other compensation. The NFL also disclosed the compensation of six other executives, including General Counsel Jeff Pash, who was paid $7.5 million.
Payments to Contractors
The NFL paid General Electric $6.2 million for concussion research and a total of $15 million to two outside law firms.
Basic Financial Data
The league had $294.5 million in gross receipts, spent $100.7 million in salary and benefit costs and $12.5 million on travel. Those numbers cover only the league's 1,795-employee central office, based in New York, and don't include players' salaries.
Insider Transactions
The NFL told the IRS that the league didn't engage in certain business deals with officers or former key employees. It did disclose two loans to unidentified senior executives -- one for $500,000 and another for $2 million.
Indoor Tanning
Because Obamacare created a 10 percent tax on indoor tanning, the NFL -- and other nonprofits -- now have to say whether they took payments to operate tanning beds. The NFL didn't.
Before it's here, it's on the Bloomberg Terminal.
LEARN MORE